A college learner who was left partially paralysed down his left-hand side after contracting meningitis as a baby has been given a prestigious award by the Mayor of Walsall, writes Paul Offord.
alsall College student Daniel Eden lives by the maxim "you don't know what you are capable of until you try".
The 25-year-old has had a lot to contend with since contracting meningitis when he was six months old.
Doctors told Daniel's parents, Lindsey and Chris, to prepare for the worst during the three weeks that he spent in intensive care. He eventually pulled through but was left with partial paralysis in his left arm and leg and learning difficulties caused by brain damage. He also has cerebral palsy.
But Daniel has never let his disabilities hold him back and the lifelong fan of Premier League club Aston Villa decided two years ago to pursue his dream of becoming a professional football coach.
He enrolled on a level one certificate in sport and active leisure at Walsall College in September last year and became involved with coaching local youngsters.
Daniel, who moved on to level two in September, was given the college sport department's student of the year award last June and has now accepted a High Sherriff's Medal of Excellence recognising academic and coaching success against the odds.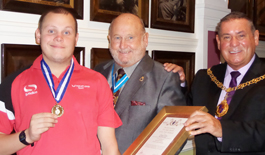 He said: "It is really nice to be recognised.
"I love helping other people and can do that through coaching.
"My current level two course is more about developing my organisation and communication skills.
"I want to go on to level three next year which will be more about skills coaching.
"My advice to other disabled people is just 'give it your best shot and try your best. You don't know what you are capable of until you try'."
Alongside his studies, Daniel is supporting the college's Team 19 football programme which, in partnership with Birmingham County Football Association, delivers free coaching sessions to 14 to 16-year-olds.
The idea is to encourage more local youngsters to play football on the pitch instead of on computer games.
Daniel coaches the youngsters two mornings a week on a voluntary basis.
He said: "I know that I am a good at communicating and can see that the young people respond to me on the training pitch.
"I started having botox injections in my bad arm and leg six years ago which stopped them from spasming and helped me do a lot more physically.
"I am so grateful to Walsall College for everything they have done to help fulfil my ambition to become a professional football coach."
Daniel was chosen for the High Sherriff's Medal of Excellence ahead of nominations from seven mayoral regions across the West Midlands.
He collected his medal, a framed certificate and a cheque for £250 at a ceremony in Walsall Council House attended by the Mayor of Walsall Pete Smith, college staff and Daniel's father, Chris.
Mark Howard, college sports development co-ordinator, said: "Daniel is a credit to Walsall College and proof that struggles and perceived weaknesses can actually be transformed into strengths."
Chris said: "We have always taken it one day at a time with Daniel since he had meningitis.
"His attitude ever since has always been that he wanted to achieve as much as he possibly could.
"I'm very proud of him and would like to think that he will be able to go into professional disabled football coaching and maybe even refereeing one day.
"He's very determined. You don't say 'no' to him. He will always find a way of getting to where he wants to be."
Picture Caption: From left: Daniel Eden, High Sheriff of the West Midlands Dr Tim Watts and Mayor of Walsall Pete Smith