The National Society of Apprentices (NSOA) has called for a childcare funding scheme that hands out up to £8,400 a-year to young adults in FE extended to apprentices.
The group — launched by the National Union of Students (NUS) in March, as reported at the time by FE Week (pictured) — gathered views from 50 apprentices across London, Bristol, Liverpool, Doncaster and Birmingham last month on key issues facing members.
A common complaint, it said, was that Care to Learn, which provides under 20s with up to £8,400 a-year in London and £7,680 elsewhere in England for childcare, was not available to apprentices.
The NSOA has therefore made the issue one of its first campaigns with an aim to make the government extend the scheme.
Another campaign suggestion from apprentices was to develop a new kite mark for "excellent" apprenticeships.
An NUS spokesperson said: "Care to Learn is a lifeline to many young parents who are looking to continue their education while caring for their children. The NSOA think it would be fantastic if its provision could be extended to apprentices."
A government spokesperson declined t comment on whether Care to Learn would be extended to apprentices, but told FE Week: "Apprentices are entitled to a range of support and financial benefits [but not Care to Learn] in the same way as any other employees — such as child tax credits, to help them support their family and continue their education.
"We have also doubled the number of two-year-olds that are eligible for 15 hour-a-week free childcare to 116,000."
Parents entitled to child tax credit, which is for example available to most one parent families with a combined income of £26,000 or less, can be paid up to £2,750 a-year per able-bodied child and £7,105 annually for each seriously disabled child.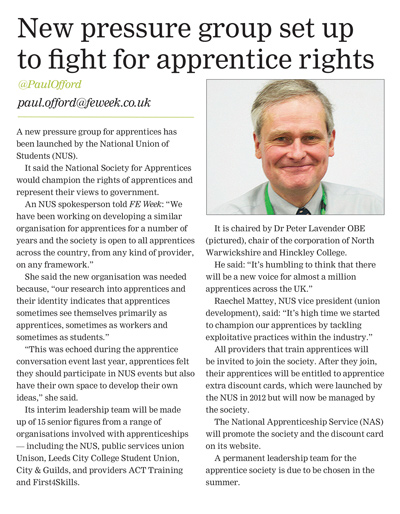 David Hughes, chief executive of the National Institute of Adult Continuing Education, said: "This is a good example of how inconsistent and unfair the learner support systems for young people
can be.
"I am sure the intention was never to disadvantage young apprentice parents, but the way this policy [Care to Learn] works means it does. I would hope that common sense prevails and this problem can be addressed quickly."
The NUS spokesperson said "nothing is solid enough to present just yet" regarding the proposed apprenticeship kite mark.
But, she added: "Apprentices at the events [in London, Bristol, Liverpool, Doncaster and Birmingham] wanted a way of differentiating between apprenticeships. This year the leadership team will be looking at how this might work."
All providers that train apprentices can register with NSOA. It already represents 150,000 apprentices from 130 registered training providers.
After providers join, their apprentices are entitled to apprentice extra discount cards launched by the NUS in 2012.