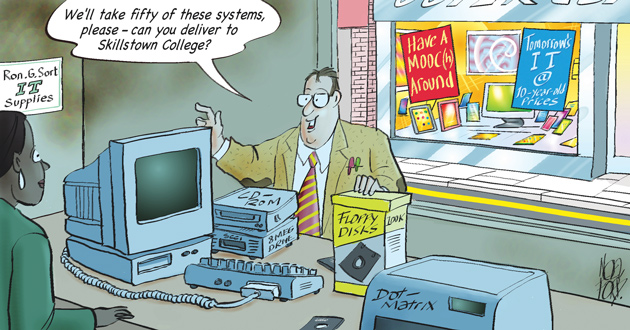 Further education colleges have a vital role to play in bringing digital skills qualifications up to date to boost computer literacy, a group of Lords has heard.
The House of Lords digital skills committee heard the adult skills budget (ASB) was being spent on the "wrong sort of IT" from a panel of expert witnesses on Tuesday (October 14).
The committee, chaired by Lady Morgan of Huyton, is taking evidence on the digital capability of the nation.
Karen Price OBE, chief executive e-skills UK, the sector skills council for business and information technology, told the committee: "We need to look very seriously at the role of FE colleges and what they can contribute."
The FE sector, she said, needed to offer short, focussed IT courses for those who wanted digital skills for their job but were not necessarily digital specialists.
But, she said: "The funding system currently works against it. We have an enormous adult skills budget and a lot of it is spent on IT but it's the wrong sort of IT — it's qualifications that are 10 years old and very out of date.
"Colleges' offer is driven by where they can access funding, these qualifications and courses need repurposing.
"It's not going to cost us any more money and then the amount of adult skills budget spent on it can be spent on relevant material that the market and the community need."
The Office for National Statistics estimates 2.2m people in the UK have no technical skills, 10.8m have only social or "citizen" digital skills, 13.6m who have non-specialist IT work skills, and 2.9m "digital makers" work in technology-focussed roles.
Rachel Neaman, chief executive of Go ON UK, agreed digital skills qualifications needed constant updating to cover new technologies.
"The idea of setting a curriculum that's going to last for five to ten years in the digital space is clearly no longer feasible," she told the committee.
"At the moment the adult skills budget is just over 2bn and yet some qualifications are not relevant to today's digital world —
those are not going to help us become a
digital nation."
She added the UK needed to "face the fact that digital literacy has become the fourth pillar of literacy — you have reading, writing, arithmetic and then you have digital skills."
Maggie Philbin, leader of the UK Skills Taskforce, said: "You don't get to GCSE, A-level or apprenticeship and stop, learning has to go on otherwise it becomes out of date or obsolete.
"With digital skills… we need to be able to access training at any age no matter what your background… and FE is ideally placed
to do that."
At previous a committee meeting last month, National Institute of Adult Continuing Education chief executive David Hughes said Local Enterprise Partnerships had made "patchy progress" in helping learners improve digital skills and needed more responsibility.
The committee continues to take evidence, with the next meeting due to take place on October 21.