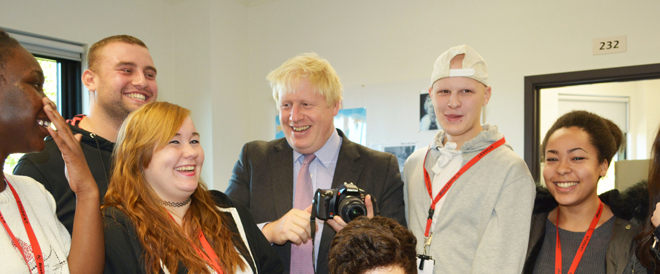 London Mayor Boris Johnson officially opened a new £20m campus for Bexley College.
The Tory politician unveiled a commemorative plaque before taking a tour of the new facilities including a media studio, ICT suites, hair and beauty training salons, gym and coffee shop.
The new teaching block in Erith, Kent, replaced the college's old campus in nearby Belvedere which opened in 1971 and closed over the summer. Around 3,000 students will be based at the site in Erith and an exisitng campus in Holly Hill.
Mr Johnson said: "This fantastic campus offers students state of the art facilities and practical qualifications and will no doubt deliver thousands of highly qualified graduates for the growing job market in the capital."
Principal Danny Ridgeway said: "I am delighted to be part of this exciting development and would like to thank the Mayor for officially opening the new building."
Caption: London Mayor Boris Johnson sharing a joke with level three photgraphy students at the new campus