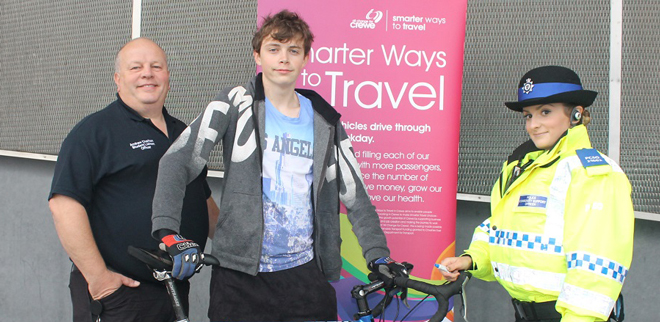 tudents tightened up on cycle security by having their bikes security-marked by visiting police community support officers (PCSOs).
More than 50 student pedal bikes were registered for the national scheme and branded with the police mark, a visible deterrent to bike thieves which makes it easy for officers to trace the rightful owners if they are stolen.
Andrew Charlton, a student liaison officer who organised the session, said: "We are very grateful to the PCSOs who came into college to deliver the bike marking service. There was a very good uptake from students and they were also given some useful information about the steps they can take to stop their bike being stolen."
South Cheshire College received a 'Smarter Ways to Travel' award in September, from Cheshire East Council and the South Cheshire Chamber of Commerce, for encouraging sustainable travel among its staff and students. There is a secure bike shelter on its campus and changing facilities for walkers and cyclists.
PCSO Vicky Fearnley, one of the officers who marked-up the bikes, said: "We had a good response from students. Hopefully the sessions have helped raise awareness across the college."
Caption from left: Student liaison officer Andrew Charlton, IT student James Bonser, aged 17, and Police Community Support Officer Vicky Fearnley