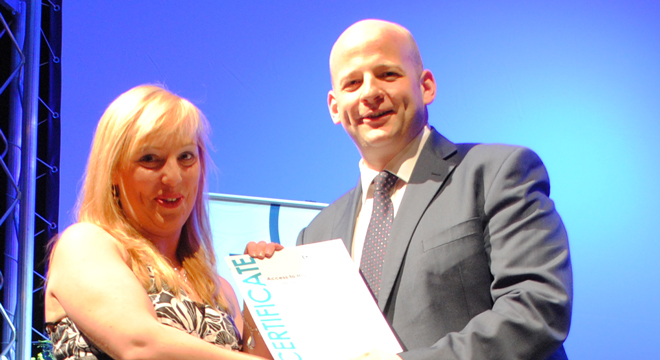 A dyslexic single mum-of-two who suffered at the hands of an abusive ex-partner before returning to education to pursue her dream of becoming a social worker has won a £1,500 Helena Kennedy Foundation bursary, writes Paul Offord.
ig-hearted Charlotte Davies always feared she was "too stupid" to train to be a social worker.
The experiences of losing her five-month-old sister Nicolette in cot death when she was six years old and domestic violence as a younger woman left her with an instinctive urge to help others.
But the 31-year-old single mum-of-two wrongly assumed for many years that she was not intelligent enough to pursue her dream of becoming a social worker.
It was only after she plucked up the courage to enrol on an access to higher education diploma at City of Bath College in September 2013, which she completed in June, that she was diagnosed with dyslexia and realised that had been the cause of her struggles with studying.
Charlotte has now started a BSc in social work at Wiltshire College and has been awarded £1,500 by the Helena Kennedy Foundation, which helps disadvantaged students who have overcome significant barriers to continue their education.
She said: "Losing my sister gave me a lot of empathy towards bereaved families. My parents responded positively by raising a lot of money for the National Cot Death Society. The help I received from social workers to escape domestic violence also inspired me."
She added: "When I started at City of Bath College I had very little self-confidence and self-belief, but I've achieved things academically that I never even thought were possible.
"I was able to pass level two maths and level three English through the access to higher education course, which allowed me to apply for my degree. It also developed my academic skills, for example with research and essay writing."
Charlotte was nominated for the award by her Bath City College access to higher education tutor Larissa Perry.
Larissa said: "Charlotte has overcome significant personal and social barriers to restart her education. This is a young woman who has not only turned her own life around but also made it her mission to improve the lives of others."
Charlotte started working as a care worker for the Action on Hearing Loss in her early 20s.
She helped launched a drama group for local people with special needs, through the charity in 2010, which she still volunteers for.
Charlotte and other local parents also launched a social group for children in her road in Bath, called The Chandler Rangers, in 2012.
She said: "We encourage the children to look after the environment and have respect for elderly people.
"They do gardening at the local community centre and recently won the Bath in Bloom award for creating the best communal garden.
"I also help run a social group for our local elderly people. Our overall aim is to bridge the gap between old and young people in our community. I want our elderly people to feel happy, not frightened, walking down the street if they pass young people."
Charlotte is managing to balance studying three days a-week with caring for her children Kenzie, aged seven, and Honey, five, working part-time for Action on Hearing Loss and helping out with the community groups.
She said: "It is a tough juggling act but it's working out well. My son was actually under-achieving in school but going to college helped me to help him more with his maths and English homework.
"He even won an end-of-year prize in June for making the best progress in his class."
Dr Ann Limb, chair and founder for the Helena Kennedy Foundation, said: "We were delighted to offer Charlotte the bursary, as she is an intelligent, determined and resilient woman."
Caption from left: Charlotte Davies and City of Bath College principal Matt Atkinson