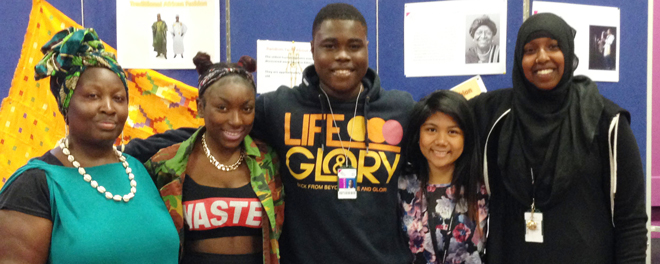 The College of North West London hosted an 'African market' to celebrate Black History Month.
Students watched a performance and drumming workshop by African dance and theatre company ADANTA and tried out jewellery and mask making, head wrapping and hair braiding. The learners also played traditional African board game mancala.
Level two applied science learner Najma Abdinoor, who comes from Somalia, said: "It's been great fun being involved with all these activities but the African drumming and dance were the best. It's so important to celebrate our culture and Black History Month allows us the opportunity to share it with others from different backgrounds and cultures."
The college will also mark Black History Month, which ends on October 31, through workshops by African-Caribbean author and genealogist Paul Crooks and by screening Oscar-winning movie 12 Years a Slave about a free-born African-American man who was kidnapped and sold into slavery.
Principal Andy Cole said: "The UK is home to such a rich range of cultural influences and events like Black History Month are a way to help students get a glimpse of these."
Caption from left: Sister E from Calabash Hub, who showed students African head ties, with learners Shanique Brown, aged 17, Tejae Brown, 16, Michelle Ayos, 17, and Najma Abdinoor, 16