Sixth form colleges have shared their enrolment figures for 2014 after taking part in a joint Association of Colleges (AoC), Sixth Form Colleges' Association (SFCA) and FE Week enrolment survey.
No fewer than 54 sixth form colleges, or 58 per cent of the total, responded to the online survey, which ran for 10 days from September 12.
The AoC revealed the findings for general FE colleges last week, and now it's the turn of the SFCA.
The figures reveal a slightly larger enrolment increase for sixth form colleges than for general FE colleges as the SCFA deputy chief executive James Kewin explains below.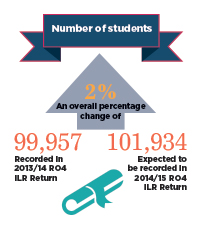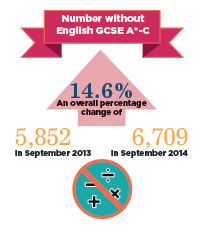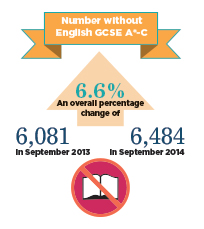 This year's enrolment survey has produced some interesting findings.
In total, 54 sixth form colleges completed the survey (a response rate of 58 per cent) based on the number of students they forecast will be recorded in their 2014/15 R04 ILR return.
Despite the demographic downturn and proliferation of schools, academies and free schools, sixth form college enrolments have increased by 1.7 per cent this year.
Improvements in exam performance and reputation were the most frequently cited reasons for this.
There has been a 14.6 per cent increase in the number of students enrolled at a sixth form college without a GCSE in maths at grade A to C.
This is an astonishing finding given the national increase of 4.8 per cent in the proportion of young people awarded an A* to C in GCSE maths this summer.
The survey responses suggest that the new condition of funding (that requires all 16 to 19 students to study maths and/or English unless they have at least a grade C at GSCE) has led many school and academy sixth forms to become more selective.
In effect, sixth form colleges are stepping in to help young people that have been failed by better-funded schools and academies and — as a result of the cut to funding for 18-year-olds — will be financially penalised for doing so in many cases.
It is important that sixth form colleges are not also penalised by Ofsted and the new 16 to 19 accountability measures for doing the right thing — these students require additional and tailored support to successfully progress to higher education or employment.
Increasing their number will put pressure on stretched budgets, and questions the wisdom of excluding sixth form colleges from the 'golden hello' scheme for maths teachers in FE.
The survey also showed a smaller increase (4 per cent) in the number of students enrolled without a GCSE in English at grade A* to C.
In terms of overall enrolments it seems that the bigger sixth form colleges are more likely to experience an increase in student numbers, and the smaller sixth form colleges are more likely to experience a reduction in student numbers. We'll be sharing these findings with policy makers shortly.