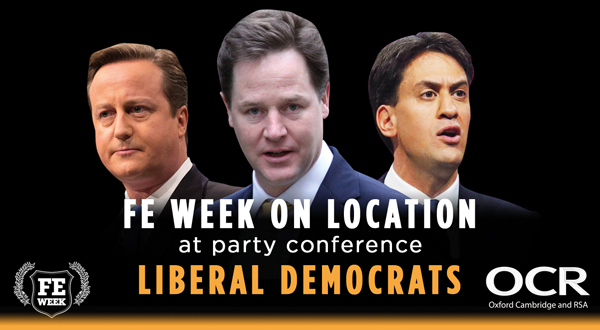 Plans to boost apprentices' pay by more than £1 an-hour have been cautiously welcomed amid concerns the rise could dissuade employers from offering apprenticeships.
Business Secretary Vince Cable used his speech to the Liberal Democrat party conference on Monday (October 6) to announce his submission to the Low Pay Commission (LPC), which states that the minimum hourly wage for first year apprentices should rise from £2.73 to £3.79 — a rise of almost 40 per cent.
It comes after Deputy Prime Minister Nick Clegg commended his party's record on apprenticeships in his keynote speech, and repeated his pledge to protect education funding "from cradle to college".
If approved, the minimum wage rise will bring the rate in line with that earned by 16 and 17-year-olds in regular work, a move which has been welcomed by the National Institute of Adult Continuing Education (Niace) and the Federation of Small Businesses.
But the Association of Employment and Learning Providers (AELP) and Confederation of British Industry (CBI) warned the proposed wage rise risked putting employers off providing apprenticeships.
Dr Cable said: "Nowhere is a long term perspective more necessary than in educating our population for a competitive, knowledge economy.
"That is why I was determined from day one of our government to breathe life back into apprenticeships and into adult education. I drew on the inspiration of my parents, who left school at 15 to work in factories and who got on in life through vocational education and adult learning.
"In government we have launched almost 2m apprenticeships — a quantum leap in ambition — and we are now reforming them to improve quality and employability. And I want to see apprenticeships properly valued. So today I am proposing a £1 an-hour increase in the minimum wage for all first year apprentices and I am writing to the Low Pay Commission to put this in place."
Dr Cable also used his speech to call for an expansion of higher-level apprenticeships and community learning.
He said: "I want to see a big expansion in degree level advanced apprenticeships which end the false apartheid between academic and vocational education; and a big expansion of community adult education including helping the mentally ill to be properly integrated back into society."
Niace chief executive David Hughes said Dr Cable's pledges were "important", and welcomed plans to expand community learning.
He said: "While he has continued the focus on apprenticeships during this party conference season in his proposals to increase apprentice pay by £1 an hour, he has extended that in committing to increase the number of 'degree-level apprenticeships'. I am pleased though that he has gone even further in his understanding of how critical lifelong learning is for our future economic recovery.
"Vince Cable's commitment to an expansion in informal and community learning, especially for those with mental health issues, will have a huge impact, particularly for those who are the most reluctant learners.
"We need an adult skills revolution to ensure a vibrant and dynamic future economy that will deliver prosperity for all. His statements will go some of the way to ensuring we have a skills system fit for the 21st Century."
John Allan, national chairman of the FSB, welcomed the planned wage rise in principle, but said the LPC's advice would be critical to ensuring a minimum wage rise did not harm apprentice numbers.
Mr Allan said: "His support for apprentices will be welcomed by businesses, which are facing skills shortages in sectors such as construction and IT.
"We now need to see the government follow through and deliver the high quality apprenticeships employers demand. Cost of training will be an important factor in these reforms and will influence take up by employers.
"While we support gradual increases in the apprenticeship minimum wage, policy makers must listen carefully to the LPC's advice before committing to significant rises.
"The UK has benefited from a flexible labour market, which has helped companies keep people in work during the recession. In undertaking further reforms, policy makers need to find the right balance between workers' rights and maintaining that flexibility.
"An authority overseeing and streamlining employment-related issues would help employers that currently have to contend with a patchwork of different enforcement agencies."
But both the AELP and CBI have warned that the proposed wage rise could put employers off taking on apprentices.
Stewart Segal, the chief executive of the AELP, said his organisation would be making its own submission to the LPC, adding: "Many apprentice training providers believe that that there is some justification for a significant increase in the apprentice rate.
"But the apprentice rate should not be increased to the point where it adversely affects employer recruitment.
"There is also a case that adult apprentices over the age of 24 should not be on an apprentice rate at all, ie they should at least be on the national minimum wage."
Katja Hall, CBI deputy director general, said: "Apprenticeships are a vital route for young people to get a step on the career ladder and are part of the answer to solving the UK's skills crisis.
"Yet too few apprenticeships at the moment go to the young and relatively unskilled. Companies already pay their share into training, so raising the cost of taking
these young people on would be unwise and put off many smaller firms from getting involved."
Nick Clegg on FE and skills * Selected quotes from the Liberal Democrat leader's conference speech
Of all the faultlines that have opened up in this Coalition government, the one that has been most revealing is the way in which self-proclaimed Conservative educational reformers sought to suffocate almost every single initiative designed to instil opportunity at an early age — for all children, not just some. Because a world class education system is one that releases the potential in all children, not just some.
My mother worked as a teacher for children with dyslexia when myself, my brothers and sister were growing up. Those days it wasn't as readily recognised that very bright children can be hampered by learning difficulties which may obscure their talents, but don't make them any less bright.
Those days countless children were discarded by the education system because children were not treated as individuals, they were expected to conform to the rigours of the classroom or be left behind.
And my mother drummed into us what seems so obvious today. That you don't write anyone off. You don't overlook anyone's talents. Given half a chance, everyone can shine.
For me, that is what our new commitment to helping with the travel costs faced by all college students is all about. That is what protecting funding from cradle to college — even as we clear the deficit — is all about.
Parity of esteem commitment from presidential candidate
A Liberal Democrat presidential candidate has confirmed her commitment to fighting for parity of esteem for the FE sector.
Lady Brinton (pictured below), who is campaigning to replace MP Tim Farron as president of the party, was a speaker at a fringe event organised by the National Institute of Adult Continuing Education, the Association of Colleges and the 157 Group.
She told the fringe at Glasgow's SECC conference centre that she still supported a motion passed at last year's conference which called for a joined-up education system for all young people.
She said: "Our paper which conference agreed last year makes the clear claim that we must go to a 14 to 18 curriculum and it must be completely complementary to the FE and schools sector.
"There must be parity of funding, and ability for young people to follow the right path for them. As long as we continue to talk about a pre-16 curriculum, and actually fund our schools and do our exams that way we will be locked into this system."
She spoke about the shock of hearing that Hackney University Technical College (UTC) had been forced to close its doors due to low enrolment, and said any change in the area of FE would take time.
She said: "I was appalled to hear that one of the UTCs has had to close down because it can't get enough young people to come in at 14 because the schools they're in from 11 are saying 'stay with us'.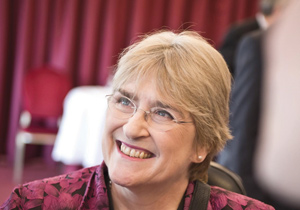 "We can't do it overnight, this is going to be a longer debate, but the policy we passed last year sets out a really good framework I think."
Lady Brinton was joined on the panel by National Union of Students president Toni Pearce, who echoed some of her concerns about the way FE is viewed in the education system.
Ms Pearce said: "I'm really pleased that in the last few years lots more people have been talking about how you begin to make academic, vocational and technical education sit together more holistically in the system, and I think it's really exciting, but none of that seems to be done in the mainstream.
"We set up different organisations, UTCs for instance, which I think are brilliant but are not seen as mainstream, and actually we're doing the opposite in our schools and removing vocational or applied methods of teaching and assessment, whilst telling people we think they should be going to UTCs to learn technical skills.
"When you do that you create a two-tier system in which you say 'if you stay in mainstream school, you're clever, and if you leave to go to a UTC, you're stupid'. You have to think very carefully about where you're placing esteem in the system."