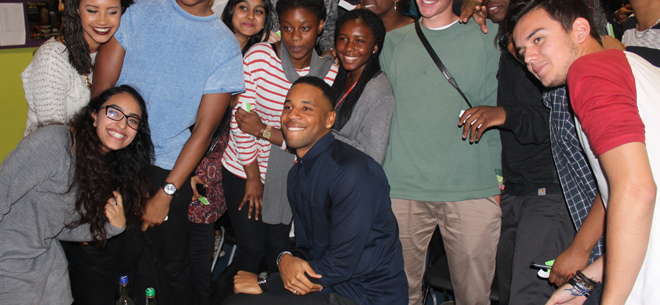 Actor and presenter Reggie Yates returned to City and Islington College to meet the current crop of A-level media students.
The 31-year-old, who studied A-level media, art and graphic design at the college from 1999 to 2001, reflected on his 20-year career in showbusiness during a talk to learners.
The star, who was born and bred in Islington, found fame aged eight in the cult Channel 4 comedy Desmond's before presenting BBC television shows Top of the Pops and The Voice.
He urged the current students to pursue their creative dreams.
Reggie said: "I grew up on the Mersey Estate [in Islington] in a home where there was pressure on me to pursue academic subjects, but I wanted to take the creative route which led me to studying at City and Islington College. I learned from my teachers that it is okay to have a vision of what you want to achieve and to go for it."
A-level media and film student Korrie Powell, aged 17, said: "Meeting Reggie today was inspirational. The fact that he used to study here gives me hope that I can make it in the industry too."
Pic: Actor and presenter Reggie Yates (front row, centre) with City and Islington College students