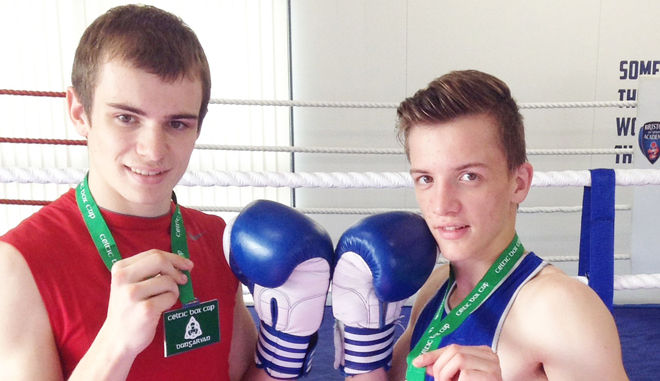 Young boxers from South Gloucestershire and Stroud College ducked, jabbed and weaved their way to medals at an international boxing event in Ireland.
Jacob Croot and Toby Hacker, both aged 17, won gold and silver medals, respectively, in the Celtic Box Cup at Dungavan County, Waterford.
Both athletes, who are currently in the second year of advanced apprenticeship in sporting excellence courses, began boxing aged 13 for Downend Police Boxing Club, in Mangotsfield, South Gloucestershire.
Jacob, who fought in the 57kg weight class, said: "I am really pleased that I was able to bring back a gold to my college."
Toby, who competed in the 71kg weight class, said: "The contest was tough but I would love to do it all again."
Craig Turner, head of boxing at the college, said: "I am immensely proud of what the guys achieved in a prestige international tournament."
Pic from left: Toby Hacker and Jacob Croot