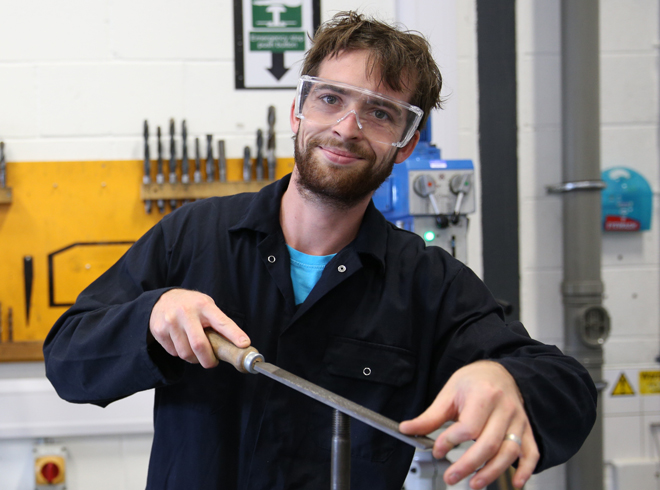 Staff and students from Somerset's Bridgwater College rebuilt a replica of a cannon taken from Russia's Crimean Peninsula 160 years ago following one of the British Army's infamous military disasters, writes Paul Offord.
Rebuilding one of their town's most famous landmark was a labour of love for a dedicated team from Bridgwater College's engineering and construction departments.
A cannon had stood on the junction of Bath Road and Bristol Road in Bridgwater, Somerset, since 1857. It had been taken from enemy Russian forces three years earlier following the doomed advance of British cavalrymen that Lord Alfred Tennyson described in his famous poem 'The Charge of the Light Brigade'.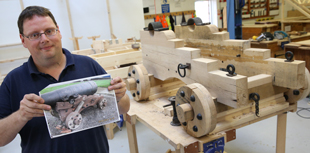 It is thought that the original cannon was melted down for munitions during the First World War. A replica installed in its place had become so badly damaged by weather erosion that it was removed by Sedgemoor District Council eight months ago and handed over to the college to be restored.
Staff and students who worked on the project quickly realised it was too badly eroded to be saved, so they crafted a replacement cannon and wooden stand matching the original design and measurements.
The team included advanced engineering learner Tom Greenwood, aged 26, level two engineering learner Bradley Edwards, 21, and level two bench joinery learners Harry Maddock, Connor Coles, Corey Simms and Lukas Stacey-Evans, all 17, and Matt Freitas, 18. Staff members involved were engineering technician Lyle Durrant, carpentry technician Jeff Arlidge and engineering workshop manager Geoff Fish.
And the cannon was installed at its traditional location, on a roundabout at the busy junction, two weeks ago.
Harry said: "It seemed to take forever to get the old bolts off but it was worth it. Seeing the cannon back on the roundabout made me proud to think we had worked on such an important historical local landmark."
The cannon was originally installed by the council as a gesture of thanks to local resident Denis Heron, a soldier from the fourth light dragoons who survived the charge.
Mr Arlidge said: "I am a keen military collector and historian, so have especially enjoyed working with our team of staff and students on this project. My partner's father also worked at the Bridgwater Royal Ordnance Factory site, where the replica cannon was originally built, so there is a family connection as well. This project greatly increased the students'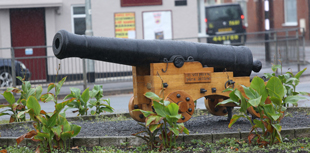 understanding of why the replica is in Bridgwater."
Mr Fish said: "It's nice to think we helped preserve this tribute to our local hero and that everyone will see it as they drive into the town. The project was really interesting because it meant using a range of engineering skills such as lathe, milling, welding and hand-fitting to replace broken parts.
"We had to take it apart first to see how bad the damage was and get measurements for all the individual parts that needed replacing.
"The old iron bolts were pretty rusted in place. It took three students leaning on a large wrench to move some of them and we used a lot of lubricating spray and old-fashioned wire brushes to get the rust off."
The college did not charge for labour and the replacement materials only cost the council £900.
Derrick Cox, who managed the project for the council, said: "The cannon and its frame now look in much better condition following the works. We would like to thank the students and lecturers from Bridgwater College who gave their time to complete this project."
The charge took place during the Battle of Balaclava on October 25, 1854, in Russia's Crimean Peninsula.
Confused orders led to around 600 members of the British light cavalry force charging at heavily armed Russian forces.
They did not gain any territory and around 245 British servicemen were killed.
Pic: Learner Tom Greenwood working on a metal bolt
Inset left: Carpentry technician Jeff Arlidge holding a photo of the old cannon next to the new frame
Inset right: The cannon after it was re-installed on the roundabout