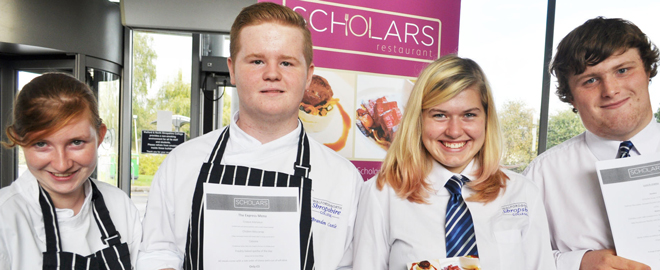 Catering students from Walford and North Shropshire College are dishing up three-course evening meals to outside diners.
The campus restaurant Scholars, which is staffed by more than 20 level one, two and three hospitality and catering students as commis, sous and head chefs, has opened to the general public on Monday evenings.
The learners helped develop a new three-course menu with dishes including wild mushroom risotto, sage stuffed belly pork, pan-fried haddock and cherry cheesecake.
They have also launched an express menu that will be served to staff and students throughout the week offering, for example, chicken tikka wrap, calzone and freshly baked quiche of the day.
Chef lecturer Dan Tompson said: "It is really exciting and great to see the development of the students. The level two students, for example, have led the creation of the new express menu, which means they will have real ownership of the dishes they are creating."
Pic from left: Hospitality and catering students Daina Davies, aged 17, and Brandon Castle, Nesta Mayor, and Joseph Roberts, all 16