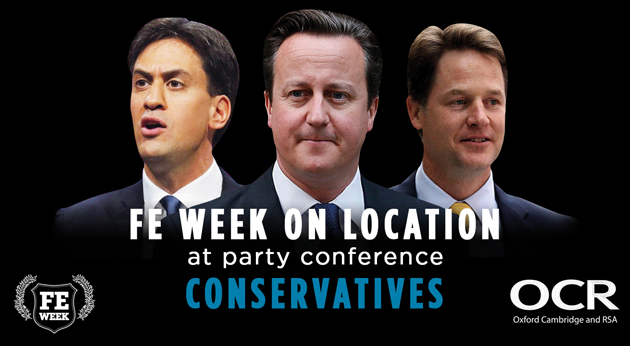 Prime Minister David Cameron's plan for guaranteed access to the National Citizen Service will not be backed up with extra funding, the Conservative Party has conceded.
In his speech to the Tory Party conference in Birmingham, he pledged to guarantee a place on the holiday learning scheme for every 16 and 17-year-old in England were he to win the General Election next year.
But Mr Cameron's party later conceded that the money for the expansion of the project would have to be found from within existing budgets, and that it had only planned for attendance figures up to 150,000 in 2016, the same number budgeted-for in 2015.
During his speech, Mr Cameron said: "I want a country where young people aren't endlessly thinking: 'what can I say in 140 characters?' but 'what does my character say about me?'
"That's why I'm so proud of National Citizen Service. Every summer, thousands of young people are coming together to volunteer and serve their community.
"We started this. People come up to me on the street and say all sorts of things — believe me all sorts of things — but one thing I hear a lot is parents saying 'thank you for what this has done for my child'.
"I want this to become a rite of passage for all teenagers in our country, so I can tell you this: the next Conservative Government will guarantee a place on National Citizen Service for every teenager in our country."
However, a Conservative spokesperson later told FE Week: "All 16 and 17-year-olds will be guaranteed a place on National Citizen Service.
"This commitment will be met from existing budgets — 40,000 people took part in National Citizen Service in 2013 and we have already made funding available for up to 150,000 places in 2016."
By FE Week calculations, based on an estimated cost of £1,000 per learner, put the cost of extending the service to 150,000 teenagers at £150m, but Conservative HQ would not confirm how much it was preparing to set aside, or which department's budget the cash would come from. It is currently funded directly by the Treasury.
The National Citizen Service was piloted in 2011 and involves groups of teenagers going on trips from a few days up to three weeks, generally involving some kind of outdoor activities, team-building and community work.
Mr Cameron's pledge was welcomed by Skills Minister Nick Boles, who said that the widening of participation in the scheme would be gradual over the course of the next Parliament.
He said: "I think [the Prime Minister] said by the end of the next Parliament, so it's 2020 not 2016.
"The biggest provider is an organisation called The Challenge, which I set up before the election to really test the concept, and it's a fantastic programme.
"I actually think it's going to end up being a fantastic source of careers advice and guidance, because one of the things it involves is young people taking on projects in their local community in teams, and that can be with local businesses or local charities so, it does create a great opportunity for people to get to young people at a key decision point in their lives.
"I think you won't get more detail until the manifesto, and I suspect in the manifesto you will get a fairly broad idea that this is how it is and by 2020 all teenagers will be able to do it. Currently it is fully-funded by the Chancellor. There is a question mark over whether there are other sources of funding one could pull in to come alongside taxpayer funding."
It comes after Education Secretary Nicky Morgan used her speech to the conference on Tuesday to call for businesses and schools to work more closely together to improve careers advice.
Despite earlier indications by Mr Boles that careers advice would feature prominently, Ms Morgan's speech contained no policy announcement on the subject.
Instead, she said that careers, "for too long overlooked in schools", were now essential.
She added: "Let's make work experience something of value, something that opens people's eyes to the possibilities of the world of work, something that helps them aspire to more.
"And let's get businesses working closely with schools to help children make the right choices at the right time, choices that help them pursue the careers they want…careers that perhaps they had never thought of before."
Mr Boles told FE Week: "Needless to say she's a Secretary of State and I'm a humble minister so I didn't actually know exactly what was going to be in her speech, but I know it's an area she takes a very strong personal interest in and we have been in a number of meetings together about it.
"I suspect that there will be more to come, and presumably it was just a decision that conference wasn't the right place to talk about it.
"I still don't want to steal her thunder and go into much more detail, but I think the one thing it would be fair to say is that the thing we all recognise is that you need to have somebody in every school, whether they're in there full-time or able to come and go quite often, who has a real understanding of all the choices in real life."
David Cameron on FE and skills
* Selected quotes from the Conservative leader's conference speech
With us, if you're out of work, you will get unemployment benefit, but only if you go to the Job Centre, update your CV, attend interviews and accept the work you're offered.
As I said: no more something-for-nothing.
And look at the results: 800,000 fewer people on the main out-of-work benefits.
In the next five years we're going to go further.
You heard it this week – we won't just aim to lower youth unemployment; we aim to abolish it.
We've made clear decisions.
We will reduce the benefits cap, and we will say to those 21 and under: no longer will you have the option of leaving school and going straight into a life on benefits.
You must earn or learn.
And we will help by funding three million apprenticeships.
Let's say to our young people: a life on welfare is no life at all, instead, here's some hope; here's a chance to get on and make something of yourself.
What do our opponents have to say?
They have opposed every change to welfare we've made – and I expect they'll oppose this too.
They sit there pontificating about poverty – yet they're the ones who left a generation to rot on welfare.
'More coherence on vocational education needed'
The government needs a more coherent strategy for vocational education, Education Select Committee chair Graham Stuart has said.
He joined a panel at a fringe event at the Conservative Party Conference organised by the National Institute of Adult Continuing Education, the Association of Colleges and 157 Group.
Speaking at the event, Mr Stuart said successive governments had failed to establish a clear policy on skills, adding that Professor Alison Wolf's 2011 report on vocational education was the current government's strongest point on the issue.
He also criticised Conservative peer Lord Baker, who has pioneered 14+ educational institutions such as University Technical Colleges (UTCs), for working at odds with former Education Secretary Michael Gove.
Mr Stuart said: "What we don't have is a particularly structured approach to vocational educational pathways. Countries with much lower youth unemployment than us not only have the status thing but they have very clear routes and they work at them for years, but we keep tearing it up.
"In the last Parliament Ed Balls had a huge opportunity with the diploma, but his pig-headed stupidity in pushing it through before he'd got it right. We told him not to."
He added: "Wolf report apart, there hasn't been much coherence to this government's strategy in this area.
"One thing is the choice — is it at 14 or 16? And countries differ. We haven't really made a choice. Michael Gove quite clearly thought it should be 16, and yet there were these strange cuckoos in the nest, Ken Baker chief among them.
"In the same government, at the same time as you had Gove saying the best countries have the choice at 16, old Ken is setting up UTCs and now studio schools and the careers academies from 14. It's a very peculiar thing."