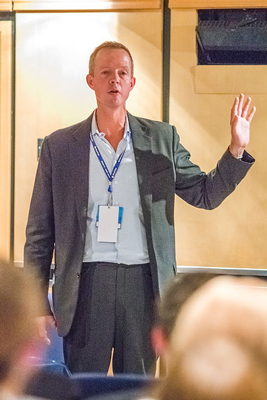 Functional Skills could be set for a return to government favour with Skills Minister Nick Boles having revealed plans to make the qualifications "legitimate, valid, respected and admired".
The qualifications, which aim to equip learners with basic skills in English, maths and ICT, have increasingly been seen as mere "stepping stones" toward GCSEs by some, including former Skills Minister Matthew Hancock.
They were even due to be removed as a requirement for apprentices in favour of GCSEs from 2017.
But Mr Boles described Functional Skills as "important" when he appeared at an FE Week fringe event at Conservative Party Conference, and pledged to work with Ofqual on improving elements of the qualification, including the branding.
The change in rhetoric has been welcomed by Functional Skills expert Roger Francis, who said his comments represented a "major policy change".
When reminded of previous government attempts to get colleges to offer "GCSE or nothing," Mr Boles said: "Well, now I am saying it's both."
He added: "We need to work on making Functional Skills a legitimate, valid, respected, admired currency for people who have a slightly different way their brain is wired. It's probably as simple as that.
"The specific practical step is that I have asked Ofqual in my first meeting with them to do a formal review of Functional Skills, to look at what's in them, what they think of them, but also to give us some advice on the branding of them."
Mr Francis, business development director at Creative Learning Partners, said: "The government was previously very keen to have a single 'gold-standard' qualification and they sawGCSEs as that standard and simply saw Function Skills as a 'stepping-stone' towards GCSEs.
"Most of us in the vocational sector view them as being the equivalent gold standard for the work-based learning sector.
"If they are changing their minds that is a major policy change and is very welcome."
Mr Boles re-emphasised government policy which dictates that those who get a D grade in GCSE English or maths must re-sit the qualification, but added: "If you've done worse than that, maybe what it's telling us is that the whole way a GCSE is constructed is just never really going to sell it to this person.
"That's why Functional Skills are so important."
David Hughes, chief executive of the National Institute of Adult Continuing Education (Niace), said the minister's recognition of Functional Skills was "great news".
He added: "Functional Skills play a vital role in helping people to get ready for, and progress in, work, much more so than a GCSE does.
"If we are going to break the intergenerational cycle of low literacy and numeracy and if we are going to equip adults with the essential digital skills for the future, then we must give learners the opportunity to improve their skills in ways that work best for them.
"We are keen to support the minister in making sure that Functional Skills qualifications are rigorous, well-taught and better respected."
Charlotte Bosworth, director of skills and employment at OCR, said: "I am really pleased with Nick Boles's announcement that Functional Skills is likely to continue to be recognised as a valuable maths and English qualification for post-16 learners.
"I feel this provides a more appropriate assessment approach for learners studying alongside a vocational or technical programme."
Pictured: skills minister Nick Boles at the FE Week and OCR Conservative Party conference fringe. Credit: Ben Page