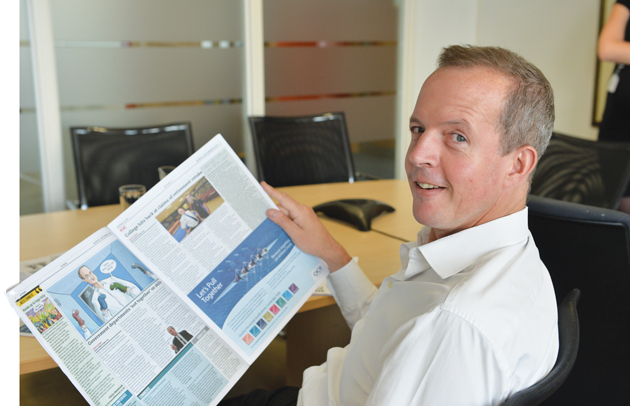 Plans to introduce mandatory employer cash contributions for apprenticeships could be scrapped, Skills Minister Nick Boles has indicated.
In his first interview with FE Week since his appointment in July, Mr Boles said that while routing funding through employers was "non-negotiable," he hinted that the cash contribution element of the proposals might not be introduced if it risked putting employers off hiring apprentices.
The government has already revealed it wanted employers to pay one third of training and assessment costs with taxpayers fronting the rest through a direct grant to employers. Currently providers are paid directly by the government.
Mr Boles said: "We are not going to be rushing into anything and we are not going to be introducing any reforms that are off-putting to employers who currently don't provide apprenticeships, let alone people who already do.
"I am very aware that one of the things that could be off-putting is an onerous financial burden, and another thing which could be off-putting is a very complicated administrative process. We are studying the consultation responses very closely.
"My own view is that obsessing about a particular cash commitment is slightly missing the point. What matters is that the apprenticeship standard is a standard which is demanding and developed by employers and that the assessment at the end is very vigorous.
We're not going to do anything which imposes either financial or administrative burdens which puts people
off providing apprenticeships.
"There is an absolute total commitment to transferring funding to employers, that's non-negotiable, but the precise modalities of it we will take our time to think about and we're not going to do anything which imposes either financial or administrative burdens which puts people off providing apprenticeships."
It comes after Prime Minister David Cameron tasked Mr Boles with creating 1m more apprenticeships in the next Parliament, taking the total to 3m by 2020.
Among those to have warned that the introduction of cash contributions could hit apprenticeship uptake are the Confederation of British Industry (CBI) and the Association of Employment and Learning Providers (AELP). And even the National Audit Office (NAO) has said the number of 16 to 18 apprenticeship starts could fall if employers were made to pay.
Mr Boles also warned the next cuts round could be "tough" for colleges, but said FE was valued by the Prime Minister and that he would fight for providers as long as they were offering good quality qualifications.
He said: "All I can tell them is that the Prime Minister would not have put the expansion of apprenticeships at the heart of his last party conference before the general election if he didn't passionately believe in the importance of further education and the transfer of technical skills to young people so they can get jobs.
"I were running a college right now, I would be trying to think about the absolute maximum that I could expand my apprenticeships activity. The more colleges gear up to be able to do that, the more likely it is they will find they can secure a relatively consistent source of revenue.
"However, there will be a tough cuts round. I can't guarantee I'll be Skills Minister next May, let alone what deal I'll negotiate on behalf of colleges.
"Of course I will fight for them, but I will fight for them to do things that are worthwhile."
Mr Boles also defended the government's traineeship programme as a "strong idea," but accepted it needed to grow in its second year.
He said: "We now need to up the pace and also to start subjecting it to some of the same fairly stringent tests we would normally apply around whether it is actually delivering the starts in apprenticeships and the starts in jobs.
"I think in what will be the second full year of provision, I hope we can get numbers up and I hope we can expand the number of institutions able to offer it, and I hope we can start measuring the data."
He indicated that he shared predecessor Matthew Hancock's dim view of qualifications of seemingly low-value, and also his rhetoric when it comes to what Mr Hancock has previously derided as "Mickey Mouse qualifications".
He said: "If you're 16 or 18 and we're trying to prepare you for that first step and maybe you don't have a glittering array of GCSEs and A-levels, I think we have a serious moral responsibility of making sure you do something which has a demonstrated record of getting people into jobs."
But Mr Boles didn't seem as concerned as Mr Hancock about college mergers, saying he would not oppose mergers and federations in principle, but would intervene if concerns were raised by FE Commissioner David Collins.
He said: "I am enthusiastic about the principle of colleges exploring all different options to make themselves stronger in a tough financial environment.
"I don't have a preference or concern about any route in theory, it just has to be sensible in practice in each individual instance.
"I don't want to constrain college boards and leadership, but equally I will take advice from the FE Commissioner when he thinks there is a proposal coming forward which he doesn't think has been thought through."
Throughout the interview, Mr Boles demonstrated he was a quick learner and already knew a lot about FE, but he admitted to struggling with a certain sector penchant.
"What is it with the FE sector and all of these acronyms?" he said. "To an outsider it's incredibly off-putting."