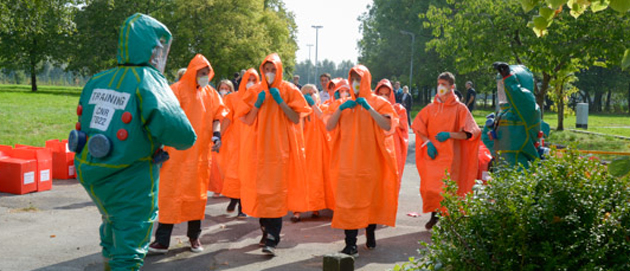 Firefighters came to the rescue when students from Mid Cheshire College took part in a chemical spillage simulation.
Around 70 uniformed services and health and safety students acted as victims contaminated by a mock-chemical spillage and gas cloud.
They were checked at a specially set up decontamination unit and tried on chemical resistant suits and gloves.
The students were graded for the roles they played in helping contain the mock-spillage. They all achieved passes which will count towards their overall course marks.
Principal Richard Hollywood said: "We work extensively with Cheshire Fire & Rescue Service which is always keen to provide first-hand experience for our students. The learners who took part in the chemical spillage exercise were a credit to the college."
Pic: Learners dressed in chemical resistant suits are guided by firefighters