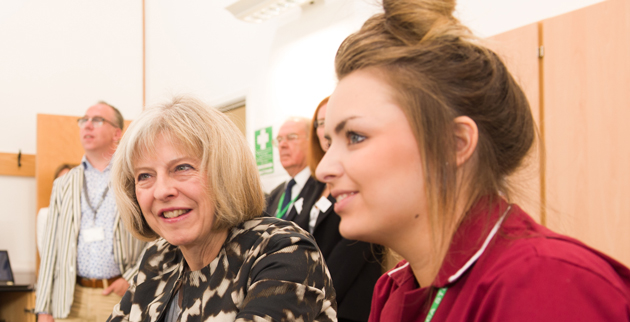 Pulses were racing as Home Secretary Theresa May had her blood pressure taken by students from Berkshire College of Agriculture.
Reading-based private healthcare provider Solutions4Health donated wireless blood pressure monitors, weighing scales, finger pulse oximeters, wireless thermometers and blood glucose monitors for use in lessons at the beginning of this term.
The Home Secretary, who is MP for Maidenhead, allowed BTec level two and three health and social care students to check her blood pressure as she was shown the new equipment.
Principal Gillian May said: "It was really great to see our local MP at the college.
"She was amazing and really took an interest in the students and how they were using the new technology.
"Ms May saw how the college is working with local employers, giving our students access to equipment that they will have to embrace within their working lives."
Pic from left: Home Secretary Theresa May with the blood pressure testing kit and level three health and social care student Kirsty Coleman, aged 19