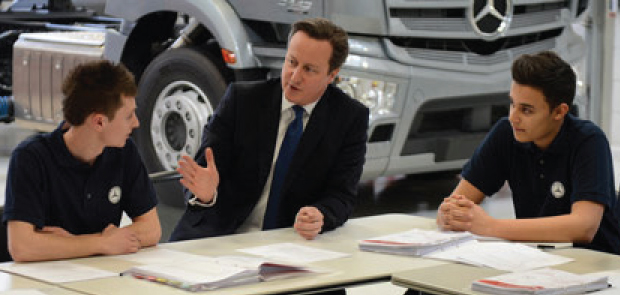 The Conservatives will increase the number of apprenticeships from 2m to 3m in the next Parliament funded by cuts to benefits for young people, David Cameron has announced.
The Prime Minister has revealed plans to stop childless 18 to 21-year-olds from claiming housing benefit and withdraw their jobseeker's allowance if they don't find work in six months.
He told the BBC's Andrew Marr show that the money saved would be used to fund 3m apprenticeships over the course of the next Parliament if his party wins next May.
But analysis by FE Week shows that any government attempting to drive up participation among teenagers would have to reverse a worrying downward trend in starts among under 19s.
It comes after Labour leader Ed Miliband pledged to bring apprenticeship and university starts into line by 2025 at his party's conference speech last week, sparking concerns in the FE sector about "quantity over quality".
Mr Cameron told the Marr show: "At heart I want us effectively to abolish youth unemployment. I want us to end the idea that aged 18 you leave school, go and leave home, claim unemployment benefit and claim housing benefit. We should not be offering that choice to young people. We should be saying to people you should be earning or learning.
"We are not talking about those people with children. This is about single people aged 18 to 21. You can start a life on dependency and that is no life at all, that is no future for your children when you do have them. We are saying save the money, make sure after six months every one of those young people has to do a job or in training and use the savings to provide three million apprentices".
His comments come after the number of 16 to 19-year-olds starting an apprenticeship slumped by 12 per cent, from 129,900 in 2011/12 to 114,500 in 2012/13.
Analysis by FE Week also shows that there was a 2 per cent drop in apprenticeship starts in all age groups, from 520,600 in 2011/12 to 510,200 in 2012/13, and that 45 per cent of all new apprentices in 2012/13 were aged 25 and over.
The pledge from Mr Cameron has been cautiously welcomed by Association of Employment and Learning Providers chief executive Stewart Segal.
Mr Segal said: "Training providers will be pleased that all the political parties are committing the funds that will expand the apprenticeship programme.  The Conservatives have announced that they want to increase the number of apprenticeship starts but that can only happen if they work with employers and training providers to build on the success of the current system.
"AELP has always said that the drive to engage more employers will mean that the budgets for Apprenticeships will have to be increased.  We need a firm basis for that increase in investment and this has to be additional funds to the existing adult skills budgets.
"The proposals to fund the expansion through cuts in benefits for young people needs to be carefully thought through.  Getting those young people the right job with training must be the objective so taking part in community projects must be part of a clear plan to get them the work they need. Training providers involved in Welfare to Work programmes need to be involved in developing those proposals.
"Much of the Apprenticeship growth is likely to come from small businesses so we need to ensure that the changes to policy and funding reflect the evidence from employers.  Some of the current proposals will be a barrier to entry for many of those businesses, including direct funding and cash contributions.  We look forward to working with government to make these plans for growth a reality but that must be based on firm evidence and employer choice."
But Professor Alison Wolf, an academic and adviser to the government who wrote a report on vocational education three years ago which led to the establishment of study programmes, has voiced concerns.
Professor Wolf tweeted: "If you demand more substantial apprenticeships with fixed funding, numbers must fall. Failure if they don't."