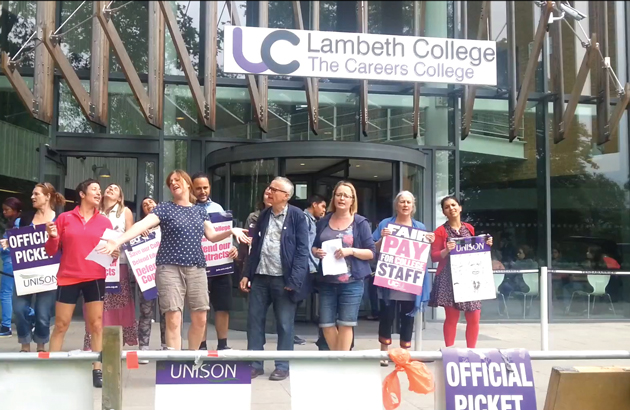 Staff at Lambeth College who went on a five-week strike towards the end of last academic year will  be able to vote from Monday on whether to walk out again — a week before scheduled talks.
University and College Union (UCU) members walked out indefinitely on June 3 in a dispute over new staff contracts.
The UCU has said the contracts would leave staff with longer working hours, less sick pay and less annual leave.
But principal Mark Silverman has said the terms of the new contract, which was introduced from April 1, were "in line with sector norms".
The strike ended on July 9, with staff returning shortly before the start of the summer holidays.
But the UCU will open a ballot on Monday on whether to renew strike action.
The ballot is due to close on October 13, but FE Week understands that talks are expected to take place on October 6 — in the middle of the ballot period.
A UCU spokesperson said: "UCU remains hopeful the dispute can be resolved and talks are scheduled to take place in early October.
"It's in everybody's interest that a resolution is found to the dispute as quickly as possible."
A spokesperson for Lambeth College said: "We are surprised and disappointed at the UCU's position and we were expecting to be sitting round the table on October 6.
"Were not expecting any action until the enrolment period was over, which we're only just coming out of now."
The college, which was slapped with an Ofsted grade four rating in 2012 but worked its way up to a grade three last year.
Mr Silverman told FE Week: "I'm disappointed that UCU feels it appropriate to risk causing more unnecessary disruption to learners
"The new contracts are for new staff only, and reflect normal practice across the FE sector.
"The college has taken great strides in the past two years to ensure we continue to improve learner outcomes and remain on a path to becoming the outstanding and sustainable college that South London deserves.
"With enrolment nearing completion and an Ofsted inspection looming, our focus remains on settling learners into their new courses and giving them the best start possible."
The spokesperson added that applications to roles with the new contracts "have been strong, both in terms of numbers and calibre of candidate".