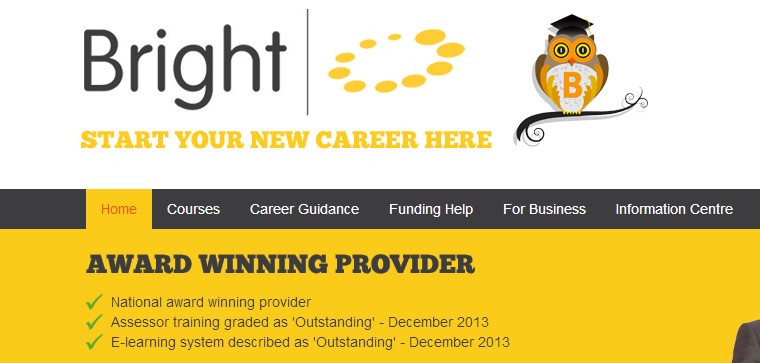 Independent learning provider Bright International Training has gone into administration.
The Warwickshire-based company, also known as Bright Assessing, has been placed in the hands of administrators BDO.
Bright was left without an awarding organisation after NCFE stopped certificating its courses in February and OCR and Ascentis followed suit four months ago.
It left hundreds of people without qualifications for courses they had paid for, with many taking to Facebook forum Bright Training Problems to complain.
Ian Gould, BDO business restructuring partner, said: "We are early in the process of fully understanding the financial circumstances of the company, but it has come to our attention some former staff may still be owed pay. Any former employee who believes themselves to be in this situation should contact the administration team based at BDO's Birmingham Office.
"Any customers of Bright who have paid for all or part of their training, but do not believe their course has been completed, should also contact the administration team as soon as possible. The administrators will work to maximise recoveries wherever possible."
He added no staff were employed by Bright when it went into administration.
NCFE confirmed in May that it had decertificated 225 former Bright learners, following allegations of malpractice which were denied by Bright chief executive Krissy Charles-Jones. A further 119 learners were left without certificates for Bright courses after OCR cut ties.
An OCR spokesperson said: "No OCR candidates have had their certificates withdrawn or been 'de-certificated'.
"Some OCR candidates have been in touch as they were not awarded with their certificates by the time centre approval was withdrawn.
"We have offered these candidates a free registration transfer so they don't lose the [OCR] registration fee that Bright paid on their behalf."
An NCFE spokesperson said: "All refunds have been dealt with directly by Bright and will be picked up by their administrators."
An Ascentis spokesperson said: "We have not withheld or withdrawn any certificates."
An Ofqual spokesperson said: "We are aware of this case. Students should contact the awarding organisation concerned with any queries they may have."
Bright was listed on the Skills Funding Agency (SFA) website in March as a subcontractor for Chesterfield College, through a contract worth £1,175,000, Avant Partnership, through a £136,194 contract, and the Derbyshire Network, through a £22,000 contract.
Chesterfield College and Avant Partnership confirmed in May that their Bright contracts had concluded and the Derbyshire Network declined to comment.
An SFA spokesperson said: "The SFA takes any allegations of financial irregularity against an organisation involved in the delivery of government funded skills extremely seriously.
"We continue to work with lead providers to ensure that funding claims in respect of all payments claimed or received for delivery by Bright are fully recovered."
Former Bright staff and learners can email richard.tonks@bdo.co.uk to register for refunds.
Ms Charles-Jones was unavailable for comment.