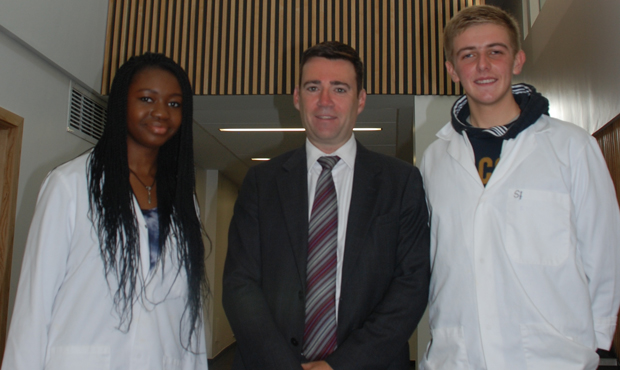 Shadow Health Secretary Andy Burnham spoke to learners at Wigan-based Winstanley College who hope to become doctors, dentists or vets.
The Labour MP for Leigh, in Greater Manchester, addressed around 100 A-level learners who also attend the college's medics, dentists and vets programme which prepares them to apply for university courses related the professions.
He spoke about the importance of the NHS and opportunities it gives to students training to work in the medical sector.
Dave Woods, medics, dentists and vets programme co-ordinator, said: "Andy's talk was really thought provoking for these students who want to pursue a medical career.
"We are so grateful to him for visiting us at Winstanley College and taking such an interest in our students."
Biology, chemistry and geography A-level learner Labake Abioye, aged 17, said: "Mr Burnham's speech gave us a really good insight into the NHS."
Pic: from left: A-level learner Lebake Abioye, aged 17, Shadow Health Secretary Andy Burnham and A-level learner Will Poole, 17