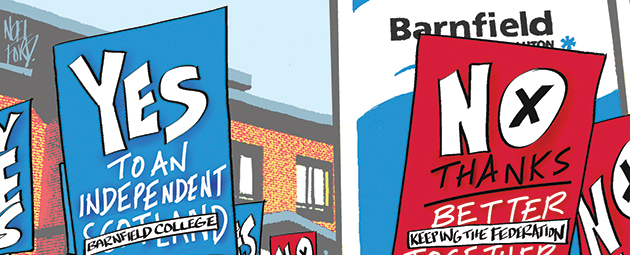 Skills Minister Nick Boles will rule on plans for Barnfield College to leave the Barnfield Federation once a public consultation on the proposed split finishes next month, FE Week can reveal.
The Bedfordshire-based federation announced in July its plans for the college to leave the group and its associated schools in a move that would mean the end of the eight-year-old federation.
The final decision rests with Mr Boles, but the Department for Business, Innovation and Skills (BIS) confirmed that no ruling would be made until a six-week public consultation on the split finishes on October 10. The split is expected to take place by December should the proposal win ministerial approval.
A BIS spokesperson told FE Week: "The Barnfield Federation wrote to ministers on July 28 setting out its plans to bring all five of its academies under one single Multi-Academy Trust (MAT) and for that MAT to legally separate from Barnfield's sponsorship.
"The Skills Funding Agency [SFA] and Education Funding Agency [EFA] continue to supportthe college and the academy trusts and have advised on the steps required to bring about such a separation. A public consultation on the proposed change has started and will run until October 10."
The move continues to leave a question mark over the future of federation interim chief executive Dame Jackie Fisher, who replaced previous federation leaders Helen Mayhew and Stephen Hall in February. She is to continue in her role until the possible split, at which point the two organisations were expected to appoint their own chief executives.
The announcement of the split proposals came after the SFA and EFA both published critical findings of their investigations into the federation in February.
FE Commissioner David Collins also visited and called for at least half the governors to be replaced and for "significant changes" to the federation's leadership.
The Barnfield Federation was unavailable for comment, but in a statement released in July, a spokesperson said the decision to split the organisation was "not taken lightly".
She said: "We are grateful for the hard work and exemplary commitment of our staff who can now put the past behind them and look forward to the future."
And the consultation document says: "The Boards of each Academy Trust and the Board of Barnfield College are jointly of the opinion that to best service the educational and training needs of the people of Luton two wholly separate organisations should be put in place.
"Barnfield College would cease being the sponsor of the Academy Trusts… Barnfield College would revert to an FE college able to focus all its energies on further and higher education provision. This process is planned to be completed over the next few months with a view to establishing a single stand-alone Barnfield Multi Academy Trust by December 2014."
Visit http://moorlands.barnfield.ac.uk/ for more details and to take part.