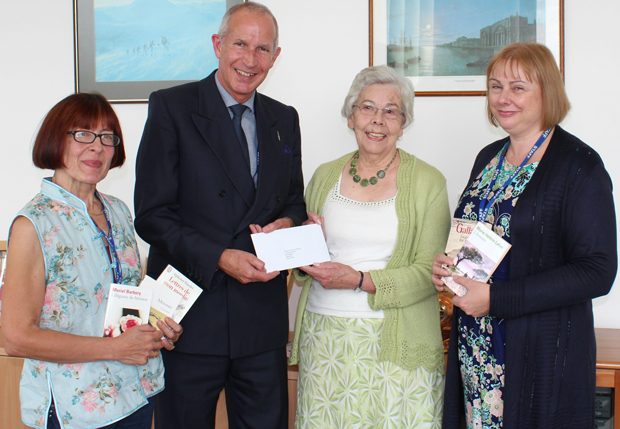 Bosses at Bracknell and Wokingham College have waived a £129 course fee for grandmother-of-four Gen van den Heuvel as she marks 25 years of study, writes Paul Offord.
Gen van den Heuvel felt she might reconnect with the country of her birth when signed up for a French literature course at Bracknell and Wokingham College a quarter of a century ago.
Born and raised in Paris, she experienced the Nazi occupation before moving to Britain in 1945.
And the studies proved more than a brief comfort, with Gen, now aged 82, going on to take courses in Russian history, pattern making for dresses, sugarcraft — even Christmas cracker making.
She puts the cost of all her studies over the years at around £2,500, plus £250 for books, but her impressive adult learning effort — and loyalty to the college — have been rewarded with 15 weeks' free (worth £129) as she prepares to embark on another French literature course.
Gen told FE Week: "I still see friends I made there 25 years ago and plan to keep going to college for as long as I can get to classes."
She added: "I used to get an old age pensioner discount for the courses but that stopped [five years ago] so the free lessons are much appreciated."
Gen's tutor, Marie-Chantal Brault, said: "I think it's amazing, but then Gen is an amazing person who offers a great deal to the class. People in the class come from different generations and backgrounds and it gives them an opportunity to bring their personalities and opinions out when we are discussing the books.
"We also use other forms of learning to support the books we read including the internet, film and the theatre and we have been on a number of trips to see plays such as Les Miserables over the years."
As a young woman, Gen worked as a bilingual secretary for security firm Bradbury Wilkinson.
She became a full-time housewife and mother after marrying Michael, who died 14 years ago, and giving birth to daughters Catherine, now 56, and Sarah, now 50.
Gen, who was an only child, said: "I never went back to work after having children and suppose part of the reason for returning to education was that I needed a bit more mental stimulation."
She added: "I studied quite a variety of courses during my first 15 years there, but always stuck with French literature and just concentrate on that now.
"I didn't want to have to sit any exams, so all the courses I chose did not lead to qualifications.
"That wasn't the idea for me. I went along for social reasons and to keep my mind active, which attending college really allowed me to do."
Principal Campbell Christie said: "It's really rewarding to meet an adult student who has gained so much from their college experience."
Gen's latest class will be studying a book set in the First World War, called Un Long Dimanche De Fiançailles by Sebastien Japrisot.
Classic books previously studied by Gen included La Suite Francaise by Irene Nemirovsky, Le Perre Goriot by Honoré de Balzac, La Bete Humain by Emile Zola, and Les Miserables by Victor Hugo, which inspired a class trip to watch the West End musical.
Cap: From Left: Course tutor Marie-Chantal Brault, principal Campbell Christie CBE, long-serving student Gen van den Heuvel and languages co-ordinator Karen Miller