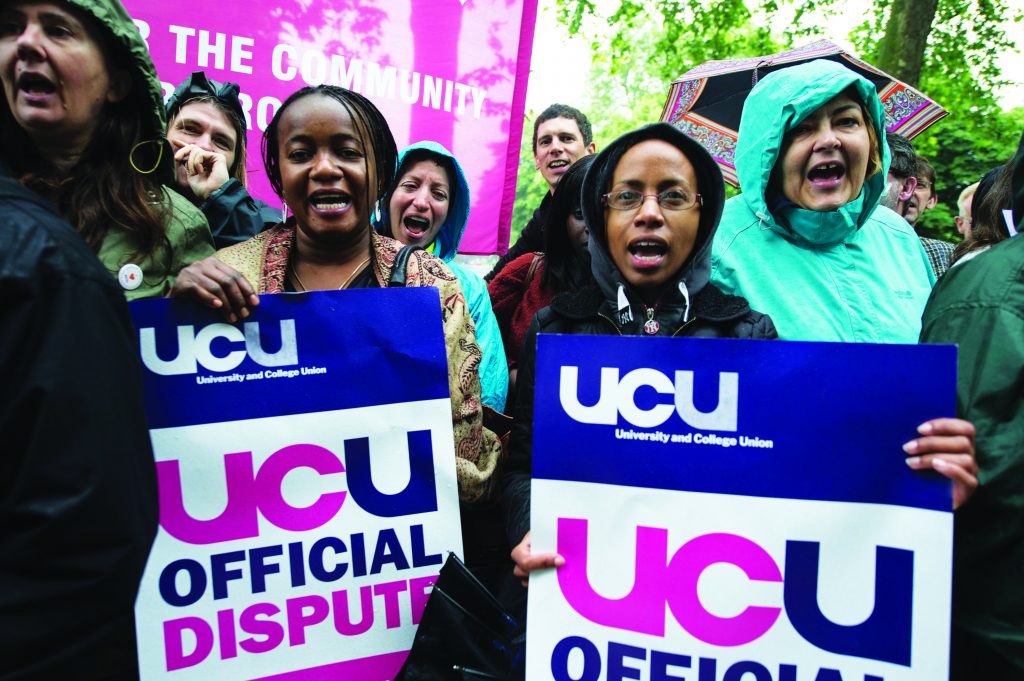 College staff have voted to strike next month in the latest of a series of strikes over pay, the University and College Union (UCU) has announced.
UCU members at colleges in England are expected to take part in the October 14 strike after 85 per cent of those balloted voted to reject a "final" pay offer from the Association of Colleges (AoC).
The union also said it would consider further industrial action if the pay offer, which includes the removal of the lowest pay grade, a 2 per cent rise to £7.65-an-hour for staff on the lowest remaining grade and a 1 per cent rise for all other grades, did not improve.
The proposed deal was better than the 0.7 per cent rise offered in previous talks at the National Joint Forum (NJF), which includes Unison, the Association of Teachers and Lecturers (ATL), Amie (ATL's section for education leaders and managers), Unite and GMB.
However, the UCU has been looking for a 3 per cent rise or £1,040, whichever is the greater.
A UCU spokesperson said: "Our FE committee met on Friday and backed strike action in the pay row. Our members in English colleges will be out on strike on Tuesday, October 14.
"85 per cent of those who took part in our e-ballot voted to reject the 1 per cent pay offer and support strike action in an effort to secure an improved deal.
"The committee voted in favour of the action on October 14 together with other public sector unions and to determine dates for further targeted and national strike action when it next meets on  October 17."
UCU head of bargaining, Michael MacNeil, said: "Our members have made it quite clear that they are not prepared to accept another real-terms pay cut. The cost of living continues to rise but pay just isn't matching it.
"Our members have seen their pay fall by 15 per cent in real terms since 2009 and have also been hit with higher monthly pension contributions. We will be joining our colleagues in other public sector unions because Britain needs a pay rise."
Marc Whitworth, the AoC's acting director of employment policy and services, said: "With colleges facing significant financial pressures, AoC's final recommendation of a 1 per cent pay increase, with no conditions, is a fair balance between rewarding staff and maintaining the financial well-being of colleges where possible.
"UCU's decision to take industrial action is extremely disappointing. AoC hopes to discuss this further with UCU."
It comes as the Department for Education (DfE) prepares to resume talks over proposed changes to pay and conditions with unions representing teachers, including those at sixth form colleges.
Education Secretary Nicky Morgan has written to the group of unions, which includes the ATL, the National Union of Teachers (NUT) and the National Association of Schoolmasters and Union of Women Teachers (NASUWT), to say she was "looking forward" to joining the talks.
The NUT wants the DfE to shelve plans for a system of performance-related pay, and commit to increase salaries in line with inflation. They also want the government to reverse pension reforms.
And in her letter, Ms Morgan said: "I would like to continue the talks in the format that has already been agreed. I know that previous discussions have been helpful in identifying some concrete ways in which we can implement policy better and believe there is a great deal more we can usefully discuss.
"One issue I particularly want to focus on with you is what more might be done to address the unnecessary workload sometimes experienced by teachers.
"I have been struck by the national and international evidence around this issue, which I know has already been reviewed in the talks with you, but also by what I have heard from individual teachers about the tasks they are sometimes asked to take on.
"Teachers join the profession to teach and we have a common interest in reducing – where we can – unnecessary work that takes teachers' time away from teaching."
Sixth Form Colleges Association (SFCA) chief executive David Igoe said: "It's encouraging that the new Secretary of State recognises that teachers have difficult workloads and is keen to have a dialogue about this.
"However the issue in SFCs is not so much about teachers having administration tasks that take them away from teaching, it is more about teachers generally having larger classes with a heavy burden of marking and preparation that that entails.
"The reductions in funding have forced colleges into being more efficient and they have had little choice but to increase class sizes and increase contact time in order to balance the books.
"Only time will tell whether this has an effect on quality and as ever it will be the students who suffer as teachers have less time or energy to give them the individual support they need. Our message to the Secretary of State is to give colleges (and schools) the resource they need to do the job and that includes making sure teachers have the time and space to support students individually."