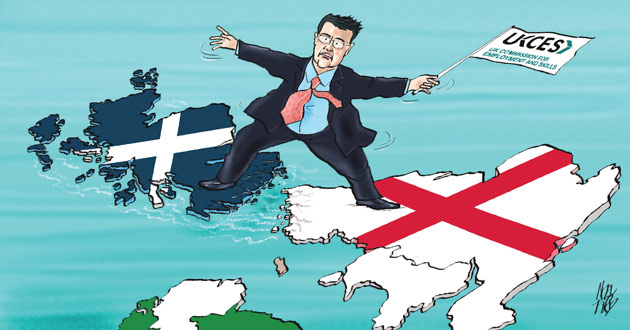 The future of the UK Commission for Employment and Skills (UKCES) could be just as much on the line as the United Kingdom, FE Week can reveal.
With voters in Scotland due to go to the polls this week over whether they want independence, it has emerged that the Department for Business, Innovation and Skills has not planned for the UKCES in the event of a split.
A BIS spokesperson conceded the future of the UK-wide research and policy body was not planned for if Scotland was to break away after Thursday's referendum.
She said: "We will not be making or commenting on plans for the possibility of an independent Scotland before the referendum."
The organisation, which had a budget of £66.9m for 2013-14 and employs around 100 staff, produces an annual employer skills survey for each of the four UK nations, as well as an overall survey — but much of its work focuses on the UK as a whole.
The Scottish government directly contributes £500,000 a-year to the UKCES to support the development of National Occupational Standards. And the Scottish government claims to have made an "active contribution" to the development of the UKCES.
The Scottish government website says: "Scottish Ministers influenced and agreed the organisation's remit and year one objectives, ensuring that UKCES focussed appropriately on Scottish issues from the outset."
A spokesperson for the UKCES, which was created in April 2008, said she was unable to comment on plans for the future of the organisation.
But Sir Charlie Mayfield (pictured front), UKCES chair, speaking in his role as chair of the John Lewis and Waitrose partnership, appeared to express misgivings about the prospect of Scottish independence, warning there would be "economic consequences to a Yes vote".
And Colin Borland, head of external affairs at the Federation of Small Businesses Scotland warned the future of many projects such the UKCES could be at risk.
"There are many cross-UK institutions who are wondering what's going to happen to them," he told FE Week.
"Whether or not a lot of the good work could continue in the event of a Yes vote or a more devolved situation, we don't know but it's going to have to be sorted out."
The BIS spokesperson said: "The UKCES has a commissioner appointed from each of the home nations by their respective governments. Each year, the four nations have the opportunity to influence the work of UKCES through their grant-in-aid letter."
However, she declined to comment further on the grounds that the government was observing Purdah — an electoral convention where all parties agree not to publish material that could sway the vote just before an election.
But both the Yes and No campaigns have accused the other of breaking Purdah following a host of new policy announcements affecting Scotland.