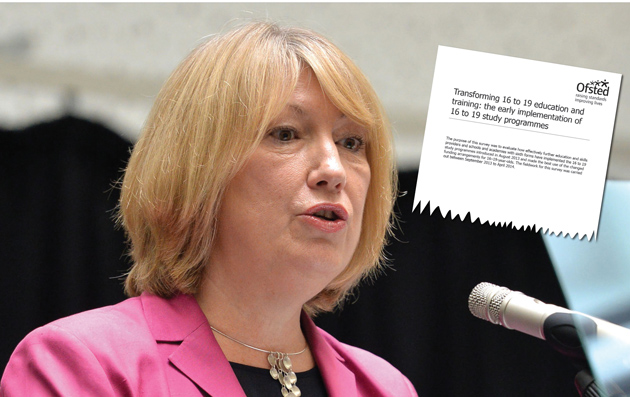 Study programmes will be "central to inspections" from this week as Ofsted seeks to challenge a slow response to the initiative.
Lorna Fitzjohn, Ofsted's director for FE and skills, told FE Week in an exclusive interview that providers should expect to see their ratings fall if they had not made enough changes to curriculum to meet government requirements.
Her comments come after Ofsted released its report on the progress of study programmes — new principles for 16 to 19 study that require learners to demonstrate progression to a higher level of attainment, take part in work experience and study maths and English to level two if they have not done so already.
The report, based on a survey during the first six months of the programmes, found that many providers had not done enough to change their curriculums to fit in with government wishes.
Speaking after delivering Ofsted's annual FE and skills lecture at the Spotlight youth centre in Poplar, East London, Ms Fitzjohn said inspectors would be looking closely at FE institutions' performance on study programmes.
She told FE Week: "As of this week, the study programmes are clearly what we are going to be inspecting for 16 to 19-year-olds, whether they be in a sixth form, an academy or a school, whether they be in a FE or skills provider, sixth form college, the study programmes are what 16 to 19-year-olds should be having, so they will be central to inspection.
"We are expecting now to see, six months on from finishing the report, that there really is a difference, at least that's what we're hoping.
"It's bound to have a real impact on their overall grading, because all 16 to 19-year-olds should have a study programme, and if that's not working it will impact on their overall grade."
Study programmes were first mooted by Professor Alison Wolf, the Sir Roy Griffiths Professor of Public Sector Management at King's College London, more than three years ago in her review of vocational education.
They were introduced by the government in order to improve progression into higher education and skilled employment.
But Ms Fitzjohn was keen to avoid laying blame for the slow response to the study programmes at any particular door, and said the government and providers both needed to take responsibility.
She said: "I think all of us need to take some role in this. Colleges, providers, schools, academies all had a year's notice of the introduction of the study programme, there was an opportunity then to make the step changes they needed to make.
"Many of them haven't taken a hard look at their curriculum, what's on offer for young people, so it's not offering progression routes for young people to move on either through level one, two, three, or perhaps if the programme they start on isn't the right one what else they might move onto.
"There also needs to be much more work experience for young people, and real life work experience, which takes some organisation. That isn't happening yet. The English and maths certainly is an issue.
"Many of the providers, schools, colleges we went to hadn't really been able to recruit the staff they needed to deal with the amount of teaching they now needed to do. There has been additional funding, but I think sadly there aren't the people out there at the moment to teach."
Ms Fitzjohn also raised concerns about a "fundamental issue with careers advice and guidance", and said not enough attention
had been paid to the fact it had to start in schools.
She added: "Maybe it hasn't been clear enough to schools that that's what they need to do, but it's certainly not happening.
"We do look at careers advice and guidance in schools. We will be looking at it far more rigorously from this month. That's one of the priorities we have this year."
The report offers 20 recommendations for government, providers, councils, employers' organisations and Leps, and Ofsted itself.
The recommendations include a plea for government to ensure data about retention, completion of core aims and destinations on leaving the programme are recorded and made available to the relevant stakeholders.
The report also urges providers to ensure that senior leaders are held to account by those responsible for governance for fully meeting the requirements of the programmes, and said councils should work with providers to ensure up-to-date mapping of 16 to 19 provision across the full range of study programmes.
——————————————————————————————-
'Providers will respond to these challenges' — AELP
The response to Ofsted's report on study programmes has been a varied one, with many welcoming its findings.
The Association of Employment and Learning Providers (AELP) said it supported the recommendations, but said in some cases the structure of the study programmes did not support high quality, flexible provision.
Stewart Segal, AELP chief executive, said: "The report raises some very important issues for the future of the study programme. Training providers will respond to these challenges but they will need the flexibility offered by the study programmes without further restrictions placed on the system."
He added: "The Education Funding Agency has pushed many providers into full time programmes of study. This is not appropriate for some learners. Although the funding rules allow shorter and more intense provision, there is a clear intention that providers should recruit young people on a programme of one year."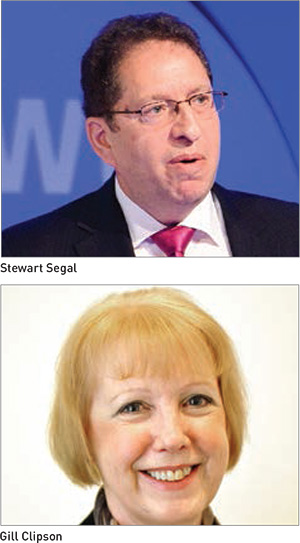 Mr Segal said: "The teaching of English and maths has improved considerably in recent years but no one should underestimate the challenge of reengaging young people in these subjects. Many of these young people do not see the relevance of English and maths which is why they sometimes do not progress in levels at this initial stage.
"We also agree that young people do not get effective careers advice at any level within the school system. Training providers and colleges are able to offer more options for young people and often work in partnership to provide the widest range of choices."
Gill Clipson, deputy chief executive at the Association of Colleges, said: "The move to programmes of study and away from colleges being funded by qualification is a fundamental change.
"So too is the requirement for all young people to continue to study maths and English if they have not reached an acceptable standard at school.
"The intention is right but, as this is such a fundamental change, it is not surprising that there has been variable implementation, particularly since the Ofsted fieldwork for this report took place even before the first full year of implementation was complete."
A Department for Education spokesperson said: "The report shows positive early signs that schools and colleges are entering young people for more rigorous qualifications.
"In fact, the latest figures show that the numbers of those over the age of 17 taking GCSEs in English and maths are rising, giving thousands more the vital knowledge and skills demanded by employers.
"Following Professor Alison Wolf's ground-breaking review of vocational education we have scrapped thousands of low-quality qualifications so that only the gold-standard, employer-valued courses remain.
"And providers are now incentivised to ensure young people study valuable courses after we changed post-16 funding from per-qualification to per-student."