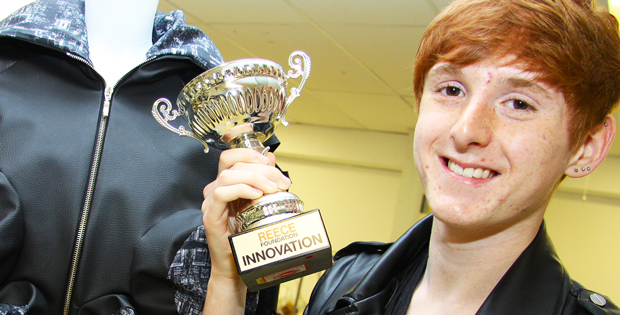 A fashion design student from Cleveland  College of Art and Design exploded into the world of science and engineering with his cuting-edge playsuit.
Daniel Grey, aged 16, won first place in the North East regional heat, held at Darlington College, of a national science and engineering competition organised by pressure group Big Bang, which promotes science and engineering to young people.
The BTec extended diploma student impressed through the use of laser cloth-cutting techniques in the college workshop on the leatherette playsuit, which can be worn in the gym or casually.
Computer-generated digital manipulation was also used to create a pattern for the collar and pockets.
Daniel said: "I was so shocked when I won, especially as I was surrounded by people entering rockets, lighting systems and engineering projects."
Fashion and textiles course leader Diane Watson said: "Thankfully, all of the processes that we use, such as laser-cutting and digital printing, fell into the criteria for the competition."
Daniel will represent the North East at the national final in March next year at the NEC Birmingham.
Cap: Daniel Grey with his playsuit and regional heat winner's trophy