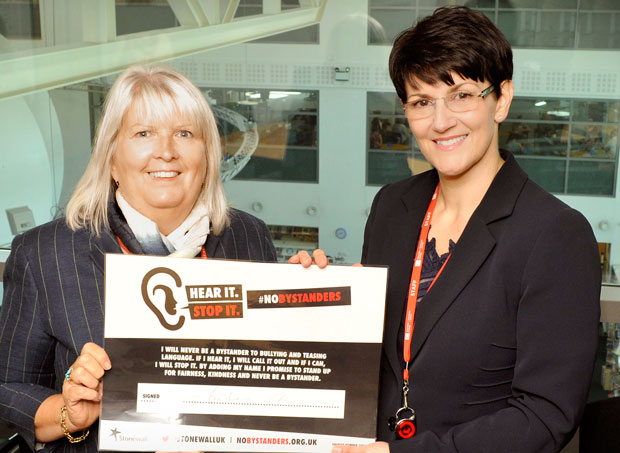 Doncaster College and University Centre has signed-up to a campaign to stop bullying towards lesbian, gay and bisexual (LGB) employees.
The 'No Bystanders' campaign by pressure group Stonewall encourages people to sign a pledge that they will take action if they see teasing or bullying taking place.
Diane Bailey, assistant principal for inclusion and learner experience, and Catherine Parkinson, deputy principal of strategy and resources, signed the pledge on behalf of the college. They also agreed to act as 'straight allies' — a term used by Stonewall to describe heterosexual people prepared to stand up for the interests of LGB colleagues — towards LGB colleagues.
Ms Bailey said: "Doncaster College is committed to creating a workplace where all staff can be their selves and a key aspect of this is our partnership with Stonewall.
"I hope that being a 'straight ally' will facilitate a more open and productive dialogue with LGB staff."
Cap: Diane Bailey, assistant principal for inclusion and learner experience, and Catherine Parkinson, deputy principal of strategy and resources, holding a 'No Bystanders' banner