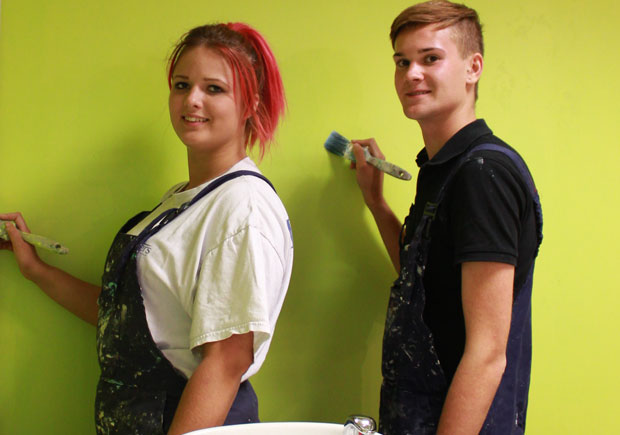 Two 18-year-olds launched a painting and decorating business weeks after graduating from college.
Billy Glyde and Abbi Skuse had not met before they started a level one painting and decorating course at South Gloucestershire and Stroud College in September 2012.
They started working together at weekends after progressing to level two of the same course from September last year.
Billy and Abbi, who both live in Bristol, have since redecorated 12 houses and flats and were hired to repaint the college's hair and beauty salons over the summer holidays before launching their business in August.
Abbi said: "We really enjoy working together. I love transforming a room and seeing the finished product."
Billy said: "We have never had a single falling out in the two years we've known each other which shows we're a good team."
Billy and Abbi painted the hair training salon grey and green and the beauty training salon cream and purple.
Painting and decorating tutor Justin Grosspietsch said: "Billy and Abbi did a great job repainting the salons. I wish them well in their new venture."
Cap: Abbi Skuse and Billy Glyde with their paint brushes in the college's hair training salon