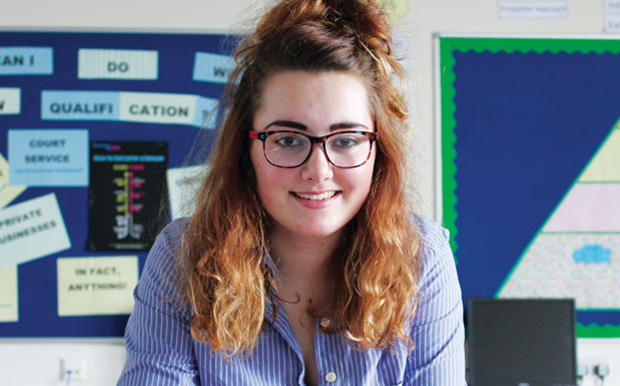 Sally Trivett dropped to a frightening 5st but is now winning her fight with anorexia with the help of South Gloucestershire and Stroud College, writes Paul Offord.
When teenager Sally Trivett was hospitalised with her weight having plummeted to just 5st, she knew she had to make major changes if she was to beat anorexia.
A year later, and against the backdrop of a new home, the 17-year-old's weight has more than doubled to a healthy 11st.
And to top off the happy return to health, she has also just recorded top AS-level grades in textiles, English literature and English language having switched from school to South Gloucestershire and Stroud College.
"It worked really well for me and I was ecstatic when I got my AS-level results last month," said Sally.
"Having to combine my recovery with my studies has been really tough, but I worked hard and am so proud of myself."
Up until last summer, Sally lived in Exeter with mum Nicci, aged 53, and went to a local school where she achieved an A*, five As, two Bs and two Cs for her GCSEs despite only attending two days a-week.
But as her health suffered she stayed at Bristol's Riverside Adolescent Unit for four weeks in June last year. While there, she put on 2st thanks to a support programme that included therapy and careful monitoring of her eating habits.
She decided a change of scenery was needed after leaving hospital, so moved to Bristol with dad Paul, 46.
Sally said: "I lived with my mum when I was ill. She's my best friend and I love her to bits, but moving to Bristol with my dad and starting college was the right decision."
She added: "The anorexia affected my confidence levels massively and I just stopped going into school.
much now as the hospital now arrange my visits more around my studies."
She added: "I love communication and would like to do a job where writing about taboo subjects, like anorexia, can help people."
"I was only in about two days a-week by the end, but they kept me on for GCSEs and I got through them.
"I had too many bad memories of my old school after leaving hospital, so decided to go to a college in a completely different place instead."
Sally wants to complete her A-levels this year and is hoping to then head to university to study journalism.
Her English language tutor, James Caldwell, said: "We are all immensely proud of Sally's achievements in the English department. She has succeeded despite some difficult obstacles being placed in her way.
"Sally is an example to us all of what you can achieve through hard work, focus, effort and determination."
Teachers at the college emailed Sally information about any work she missed in lessons and homework that needed to be done.
"The college has been great," said Sally. "They let me go to all my hospital appointments, even if they clashed with lessons. I was even offered counselling by the college, although I didn't need that as I get it already.
"I missed a lot more classes when I first started at college, but it doesn't happen so much now as the hospital now arrange my visits more around my studies."
She added: "I love communication and would like to do a job where writing about taboo subjects, like anorexia, can help people."
Cap: Sally Trivett in the classroom at South Gloucestershire and Stroud College at the start of the new academic year