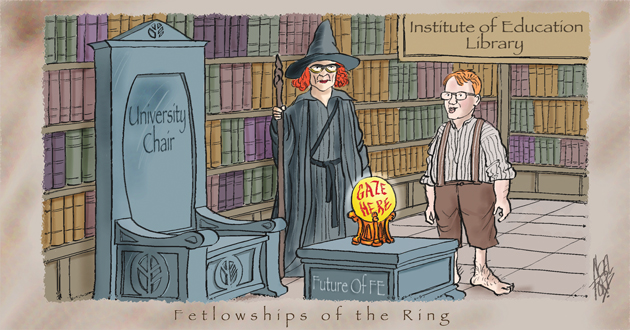 A new FE leadership thinktank set up by former Learning and Skills Improvement Service (LSIS) chair Dame Ruth Silver has launched its first initiative with £50,000 fellowships to gaze into the future of the sector.
The Further Education Trust for Leadership (FETL), which launched over the summer with a budget of up to £5.5m left over following the closure in July last year of LSIS, is accepting applications for the research.
The fellowships will cover the cost for sector managers to take time off from their roles with providers and other FE-related organisations to research and report on leadership issues affecting the future of the sector.
Candidates chosen for fellowships will work with a university chair in FE leadership at the London-based Institute of Education (IoE).
They will also have access to the IoE library, but regular attendance in London will not be necessary and research can be done from home.
Mark Ravenhall (pictured on front), appointed FETL chief executive two months ago, said: "When people apply, they will be able to talk through their ideas with me, then write a letter explaining what excited them about it and how they plan to pursue it.
"We want to stress the fellowships are open to anyone involved in leadership with an interest in the sector.
"I have already had a number of emails and two people have got in touch through the website — so the scheme seems to be producing quite a bit of interest."
Applications opened on Tuesday (September 2) and must be lodged by October 10. The fellowships are expected to start early next year.
Mr Ravenhall, who was director of policy and impact at the National Institute of Adult Continuing Education from 2001 to 2013, added that FETL was "open-minded" about subject areas for the fellowships.
But he said: "We are less interested, for example, in research on the introduction of advanced learning loans than thinking on how leaders will have to respond to an environment where learning is financed rather than funded, and whether this will bring about a complete change in the way providers work. Are we playing by different rules now?"
FETL launched a basic website in July that was upgraded on Wednesday (September 3) and now features a guide to applying for fellowships.
Dame Ruth (also pictured on front), FETL's honorary president and a former Lewisham College principal, said it would "give space to highly-pressured colleagues to clear their heads and have time to think new thoughts with the supportive resourcefulness of others".
Organisation with an interest in FE will also soon be able to apply for FETL grants to fund research into sector leadership issues, but it has not yet been confirmed when this scheme will be launched or how much money will be available.
Visit www.fetl.org.uk for more details.