Police investigating the hacking of a college website which resulted in it "supporting" the militant group Islamic State (ISIS) have not ruled out learner involvement in the cyber attack.
Carlisle College disabled its website on Saturday, August 30, after various elements were changed, including the main description which appears next to the site in internet search engine results.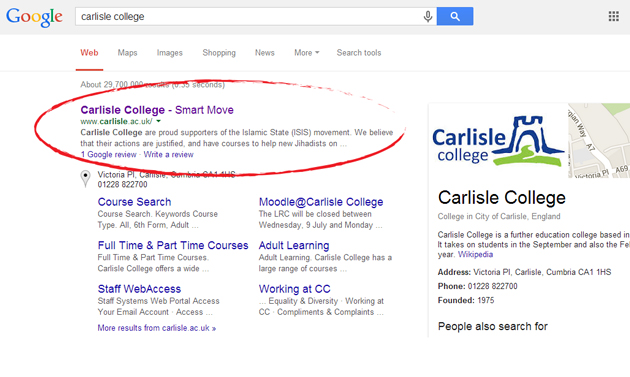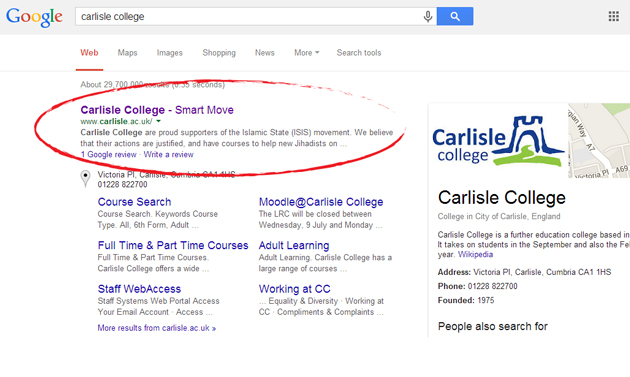 For several hours late last week, the description (pictured) read: "Carlisle College are proud supporters of the Islamic State (ISIS) movement.
"We believe that their actions are justified, and have courses to help new Jihadists."
According to local newspaper the News and Star, which broke the story, college staff only realised after they were contacted by police officers on Saturday.
But initial speculation that the website may have been targeted directly by Islamic militants appears to have been rejected by the college.
A Cumbria Constabulary spokesperson told FE Week that officers were working with IT specialists and the college's web team to try to identify the hacker via their IP address.
He said police were at an early stage of a "potentially long investigation", but added that he could "not rule out" learner involvement.
College head of communications Paul Walker told FE Week: "The investigation is ongoing. It appears that it's nothing more than a malicious hack, and it's difficult for us to say more at this stage.
"We are not ruling anything out but we don't think it's likely it was a learner. The jury is out on that."
It is not known how long the changes remained in place before they were discovered by the college.
Speaking to the News and Star earlier in the week, Mr Walker said: "A member of the public from the Cleator Moor area made police aware, and they contacted us.
"We are trying to establish who was responsible and how they did it; we have quite robust security measures in place. Initially my reaction was disbelief.
"Like many of your readers, we can understand if we were high-profile — if we were one of the agencies or somewhere in the United States — but for a small college, in a small city, it's quite unusual."
Mr Walker said the college website would be inactive while the police investigation was ongoing.