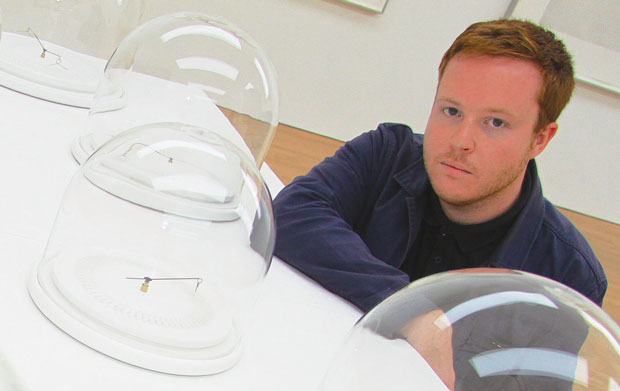 Cleveland College of Art and Design (CCAD) is on a roll after students helped graduate Nick Kennedy create diceinspired artwork for a public exhibition.
The 30-year-old professional artist, who left CCAD in 2003, worked with dozens of art foundation learners to produce drawings, paintings, sculptures and other exhibits displayed over the last week at the Middlesbrough Institute of Modern Art gallery.
The artwork was based on dice rolled thousands of times by volunteers, with records kept of where they landed and the numbers displayed.
He said: "I was looking at a way to create art allowing the influence of chance and accident to dictate its course. We had students from 18 to 65 helping who were all incredibly enthusiastic."
Cap: Cleveland College of Art and Design graduate Nick Kennedy with an exhibit showing clock-like devices with hands charting the direction that dice travelled in