Government plans to make employers pay for up to a third of the training for 16 to 18 apprenticeships could hit the age group's already-falling uptake, the National Audit Office (NAO) has warned.
It said the number of apprenticeship starts among 16 to 18-year-olds, which fell from 129,900 in 2011/12 to 114,500 in 2012/13, could fall further if "risks" caused by reforms were not managed by the Department for Education (DfE).
Under the current pilot, the government has said that although employers would have to pay their contributions upfront, it could be possible for them to earn back some or all the money in the form of a one-off payment of between £600 and £5,400 for every 16 to 18-year-old recruited and a payment of between £500 and £2,700 for apprentices, regardless of age, who complete their training.
An extra incentive up to £2,700 could be made available to businesses with fewer than 50 employees.
However, the NAO isssued its warning about the effect of the reforms in a report entitled 16-18-year old participation in education and trianing, which was released today. The report makes reference to the slump in apprenticeship starts and calls for action to deal with the risks involved in the reforms.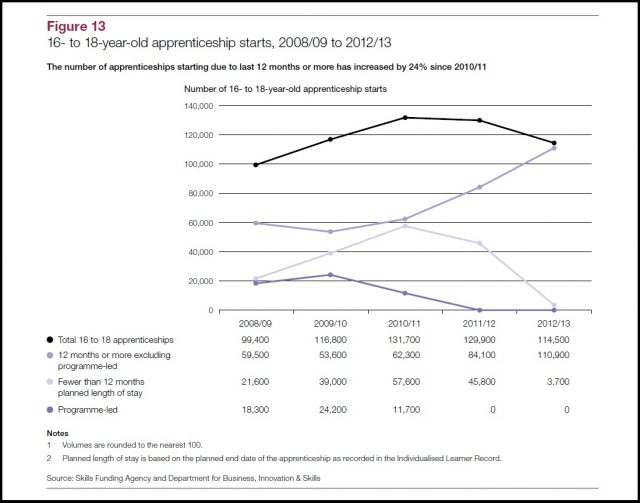 The report says: "These statistics show that, as they develop their apprenticeship reforms, the two departments [Department for Business, Innovation and Skills and Department for Education] will need to manage potential risks to the overall participation rate.
"Longer apprenticeships, in the context of reduced funding, might lead to fewer apprenticeships in total, which, in turn, could reduce overall participation.
"In addition, the government currently pays the full cost of training 16- to 18-year‑old apprentices, but announced in 2013 that this will change. By 2016, employers will have to contribute towards their apprentices' training costs (apart from the costs of English and maths study)."
It added: "The government plans to cap the maximum level of its funding for each apprentice and give providers funding using payment by results. The government is trialling a funding model in 2014/15 for apprenticeship starts on new employer-designed standards, including an additional incentive payment for each 16to 18-year-old recruited.
"Through these reforms the government is aiming to make employers 'co-investors' in apprenticeships and customers of training, which it considers will incentivise them to take more responsibility for improving quality. However, employers do not have to have apprentices and there is a risk that fewer may do so if they have to meet the training costs themselves or perceive the process to be a burden."
The report echoes the concerns about the reforms raised by various organisations, including the Association of Employment and Learning Providers (AELP).
Responding to the NAO's report, AELP chief executive Stewart Segal said: "The NAO has signalled its concern about 16 to 18 participation in apprenticeships which reflects what employers have been saying to our members.
"The proposed requirement of employer cash contributions for apprentices of all ages removes the principle of training for the 16 to 18 age group being fully funded and AELP believes that the number of apprenticeship opportunities for young people will fall substantially if the requirement is implemented.
"Employers already make a major investment in apprenticeships for young people and we need to recognise that routing funding through employers and mandatory cash contributions will reduce the opportunities for young people."
The education select committee is due to look at why there have been falls in 16 to 18 apprenticeships and a spokesperson told FE Week that oral evidence would probably begin at the end of October or in early November.
It will come with 16 to 18 apprenticeships three months ago having shown their first first year-on-year rise for the third quarter (Q3) of the academic year since 2010/11. However, the NAO report looked at full year figures, which fell.
Plans to make employers pay a contribution were first revealed in April in a technical consultation document. The results of the consultation are due to be published in the autumn.
The DfE did not comment before this story went to print. Visit the FE Week website later this week for their full response.