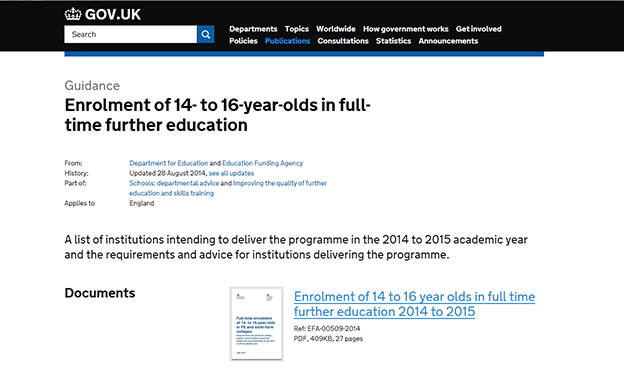 A further nine colleges have been given permission to recruit full-time 14 to 15-year-olds this September, the second year in which this has been possible.
The Department for Education (DfE) announcement this afternoon revealed the list of 14 colleges that have permission to directly recruit, and be funded for, students from 14 years of age.
In addition to the seven colleges given permission last year, nine colleges applied to the DfE to recruit full-time 14 to 16 year-old this September, as reported by FE Week in July.
It would appear that all nine applications have been successful (listed in bold below).
Two colleges, Halesowen College and Hadlow College, had permission last year but no longer feature in the list, leaving the total eligible colleges standing at 14.
Northern England
• Accrington and Rossendale College (since Sept 2013)
• Grimsby Institute of FE    
• Hull College (since Sept 2013)
• Hugh Baird College 
• Leeds City College (since Sept 2013)
• Middlesbrough College (since Sept 2013)
• Newcastle College Group (since Sept 2013)
• Oldham College   
• St Helen's College 
Central England
 • Stephenson College 
Southern England
• Bromley College   
• City College Plymouth   
• Newbury College    
• West Thames College