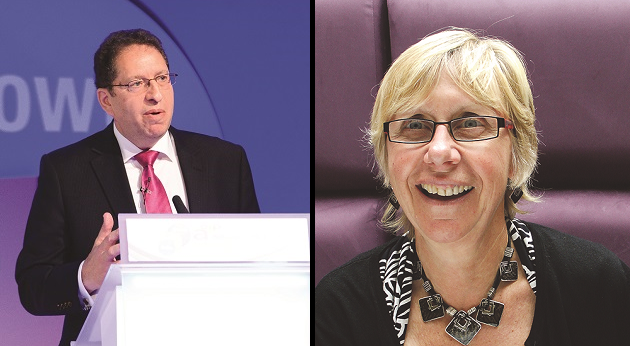 Ofsted proposals to merge the FE and skills inspection regime with schools and early years have drawn warnings from the Association of Employment and Learning Providers (AELP) and the Association of Colleges (AoC).
The education watchdog is expected to put the idea out to consultation "very soon," according to Sean Harford, Ofsted's national director for schools policy and initial teacher education, and regional director for East of England.
All education inspections would be "harmonised" under a single framework from September next year, as revealed exclusively by FE Week on Friday (August 1) when Ofsted confirmed it was considering scrapping the current FE and skills common inspection framework (CIF), introduced just two years ago.
But any change in the way inspections were carried out must take into account the differences between schools and FE, Ofsted has been warned.
Stewart Segal (pictured), AELP chief executive, said he feared that any debate on the issue would focus on schools as he insisted that any consultation should be balanced.
He told FE Week: "All Ofsted inspections should be based on a common set of principles which would include fairness and transparency. However there are a number of differences between schools and FE and Skills and the current framework arrangements are beginning to work well within the sector.
"The current CIF has not been used for very long and providers and inspectors need time to develop a common understanding of the framework. It will be useful to have the discussion about the value of bringing the inspection regimes together but need to be very careful about further changes to inspection at a time when improvements are being made and there are other fundamental changes in the sector which will affect inspection such as the changes to apprenticeship funding.
"As always there is a danger that in any change it is the schools agenda which will drive the debate so we must ensure that the consultation is balanced across the sectors."
Joy Mercer (pictured), director of policy at the AoC, said: "We would be very pleased to see school sixth form and college 16 to 18 education inspected in the same way, but have concerns about one inspection regime spanning all of Ofsted's remit.
"Any inspection framework needs to recognise the 16 to 18 phase as very different from schools and early years where there is a national curriculum and where a focus on behaviour may be relevant.
"We would be interested to see differentiation in Ofsted's inspection that recognises similarities and does not expect one size to fit all."
An Ofsted spokesperson confirmed it was looking at the merger idea and said that the proposals formed part of its Future of Education Inspection programme.
However, he said it was too early to comment further on the proposals, but he could not rule out the prospect of school inspectors visiting FE and skills providers.
Mr Harford tweeted on Friday: "Mike [Cladingbowl, Ofsted's national director of inspection reform] is leading the work to hamonise all out education (schools, colleges, EY [early years]) inspections under a single framework ready for Sept 2015. Consultation starts very soon."