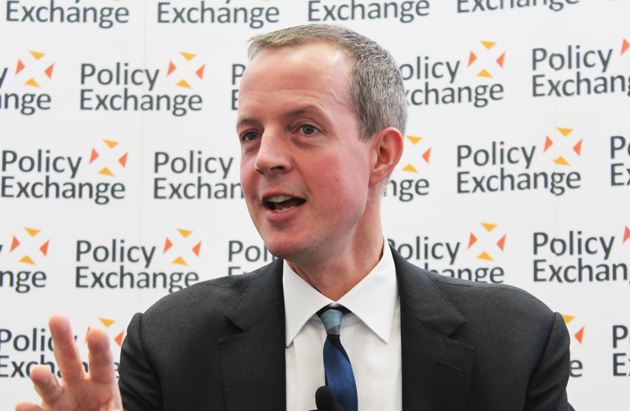 With just over a fortnight gone since Grantham and Stamford MP Nick Boles became the new Skills Minister, the sector is still awaiting his first public interview on his brief. As anticipation grows, FE Week reporter Freddie Whittaker delves into his past to see if there might be any clues as to what the sector can expect.
Of almost 150 Tory MPs elected for the first time in 2010, few have managed to whip up as much controversy as Nick Boles.
It could be the tempestuous nature of the planning brief he held for almost two years at the Department for Communities and Local Government (DCLG), or the uncompromising way he handled the portfolio itself. Whatever it is, it has done a great job at dividing opinion about the 48-year-old.
Infamous for having once described green fields as "boring" and for championing the government's ambitious housebuilding targets seen by some as imposed to the detriment of areas of countryside, Boles seems more concerned by getting the job done than by achieving consensus.
Born Nicholas Edward Coleridge Boles on November 2, 1965, the new Skills Minister's education has all the familiar hallmarks of privilege. He studied at Winchester College, then Magdalen College, Oxford, eventually winning a Kennedy Scholarship to Harvard.
He ran a small business and was a Tory councillor representing the affluent areas of Mayfair and Soho. He chaired the housing committee and lived with another bright young Tory activist named Michael Gove. He founded the right-wing Policy Exchange thinktank, and ran it for five years and was elected to the safe seat of Grantham and Stamford in 2010 with a majority of almost 15,000.
"Posh, intolerant Nick Boles is a danger to the Conservative Party," said Bruce Anderson in The Spectator in November last year, adding that Boles "gives the impression that everything has come easily to him".
Others, including Association of Teachers and Lecturers deputy general secretary Peter Pendle, are equally cynical. Mr Pendle, a lifelong Labour supporter and former college vice-principal, said he was concerned when  Matthew Hancock was promoted to Business, Enterprise and Energy Minister with Boles taking his place.
Mr Pendle told FE Week: "I was more worried about Hancock leaving, particularly as we had got into a situation where he was beginning to get it — level playing field, 16-19, student-centred funding and such like — so the first thing I did was to go and look at Boles's CV, and I have to say that that filled me with a degree of concern.
"He went to a private school, went to Magdalen College Oxford, he got a scholarship to Harvard… I just don't believe he had been anywhere near a  general FE or sixth form college in his life.
"He was a Westminster councillor representing Soho and Mayfair — now I'm not sure if there are a lot of FE students living in Soho and Mayfair — and shared a flat with Michael Gove for four years. So a lot of warning signals."
The surety with which Boles conducted himself and his approach to the government's localism agenda while on the long leash of plain-speaking Eric Pickles at DCLG did not earn him friends in the rural lobby, and the "boring" comment did little to alter that.
But he has even been accused of costing his colleagues votes and criticised by members of his own party on more than one occasion.
During a particularly heated meeting in April about a 150-home scheme being fought by campaigners in Gloucestershire, Boles was told in no uncertain terms that his policies posed an electoral threat to Neil Carmichael, the Tory MP for Stroud, who has a majority of 1,299.
One campaigner accused him of creating "a monster where speculators are moving in".
Boles also made an enemy in Lord True, the Tory peer and leader of Richmond Council, for his "interfering" in planning matters and his policy which makes it easier to convert offices into homes.
Lord True told the Evening Standard last year: "There are many people that believe a period of silence from Mr Boles would be welcome."
But the experience of those who have dealt directly with him tell a somewhat different story — that of a sympathetic ear and a willingness to compromise that is perhaps under-represented in news stories about high-profile clashes.
The Campaign for National Parks (CNP) was one of 10 charities which wrote to the minister to plead with him to exempt national parks from rules which allow redundant barns to be converted into housing without planning permission.
Ruth Bradshaw, from the CNP, told FE Week: "In the end we were very pleased because we did get an exemption for national parks and areas of outstanding natural beauty in the rules.
"We did feel that he did listen to us in the end. Before that we had been worried about some of the proposals which came forward which didn't take into account our view, and it took quite a lot of lobbying on our part and we felt there could have been a bit more thinking in advance. On a face-to-face basis I found him to be very approachable."
Whether Boles is seen just as a safe pair of hands to steer the skills portfolio towards the general election next year or a no-nonsense reformer sent to unapologetically hand down more cuts remains to be seen, but one thing is certain — all eyes in FE are on him.