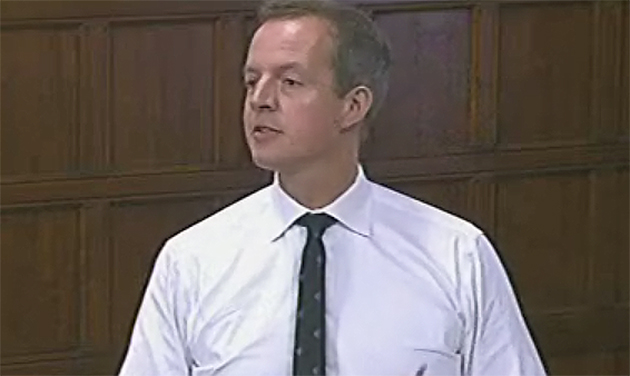 New Skills Minister Nick Boles said he hoped one in four young people would study for the government's flagship tech bacc, despite it only being offered by five colleges.
In his first parliamentary questions session, Nick Boles was asked by Labour MP Lyn Brown what progress had been made on the introduction of the technical baccalaureate.
The tech bacc is a vocational qualification which involves students taking one or more tech levels, a maths qualification and an extended written project.
Mr Boles replied: "I am very hopeful that about 25 per cent of young people will take up the opportunity of a tech bacc.
"The key thing is what is in it — that the qualifications that make it up are themselves demanding."
This percentage, a Department for Education (DfE) spokesperson told FE Week, "equates to 320,000 16-19 year olds".
"This is the proportion  of young people aged 16 to19 in full time education in 2012, who took vocational qualifications at level three, exclusively or with A levels, having  passed GCSE maths at C or above at key stage four."
However, just five colleges and two schools have signed up to offer qualifications which will be included in the scope of the tech bacc from September.
The DfE spokesperson said: "The 25 per cent is an ambition, rather than a target, so there's no set end date.
"All colleges will be able to offer the tech baccs — we expect it to grow over time."
Of the 339 colleges in England, the five colleges currently signed up as tech bacc "Trailblazers" include Barnet and Southgate College, which will offer tech baccs in engineering, motor sports vehicle technology, IT, construction and health and social care and Blackpool Sixth Form College, offering engineering, IT and creative media production tech baccs.
Students at Brockenhurst College and Warwickshire College will be able to take engineering tech baccs, while South Cheshire College will offer them in IT as well as engineering.
Two of the colleges with the highest income in the 12012/13 academic year, FE Week understands, NCG (formerly Newcastle College Group) and Leeds City College are involved with tech back pilot schemes which will not be launched until 2015/16.
However, Yultan Mellor, vice principal for curriculum at Central College Nottingham, another college in the top ten with the highest income, warned there may not be a huge appetite among many colleges.
"There hasn't really been any discussion about tech baccs in my professional circles — they've kind of slipped in under the radar," she said.
"There's been so many changes to the system over the last few years – I think there's some kind of inertia in the sector because of all the constant changes it almost feels like something new this year might be gone by next year."
This she said was partly why Central College has not introduced the tech bacc.
"I think we'd probably want to see a level of success and understanding in the marketplace before we jumped in," she said.
"Particularly the extended project — that was also part of the diploma which we did offer, but it wasn't hugely successful.
"I think it's difficult with a student that's signed up for a course in engineering for example, to put them on a long qualification that they didn't sign up to."
She added: "We don't have a problem with the tech bacc and it's something we might consider at the future but to be honest, we're happy that our current suite of qualifications offer young people progression, into jobs, into higher apprenticeships, into university."
Deborah Ribchester, curriculum senior policy manager at the Association of Colleges, welcomed Mr Boles's comments.
She said: "We are pleased government is supporting a high-quality technical education route and we would like to see tech baccs available across all occupational sectors.
"It's difficult to speculate on numbers likely to take up this package of qualifications but there are currently five colleges selected as trailblazers and we look forward to working with them as the trial progresses."