There are surely less gruelling ways of spending quality father-and-son time than a bike ride the length of Great Britain.
But the opportunity to get back on the saddle and raise more than £1,000 for Oxfam proved too much for National Institute of Adult Continuing Education (Niace) chief executive David Hughes.
The 48-year-old is spending the next fortnight, and a bit, cycling 1,250 miles north from Land's End to John O'Groats with 16-year-old son Oscar (pictured below) — and then 120 miles back south to Inverness.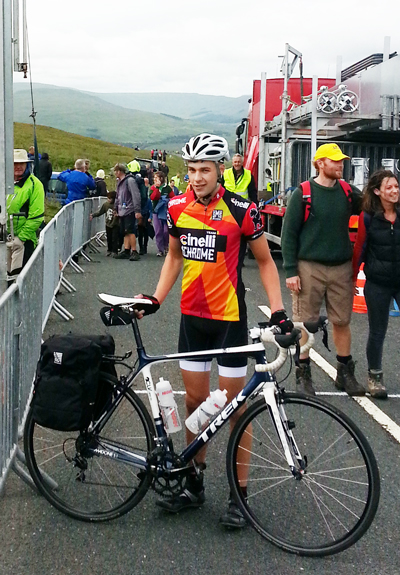 The duo plan to head off from the Cornwall starting point tomorrow morning, with Mr Hughes's wife, Emily, 48, and daughters Evy, 18, and Matilda, 13, set to cheer the pair on from a distance.
Mr Hughes, of  Loughborough, Leicestershire, said: "Oscar recently turned 16 and finished his GCSEs and we thought it would be a nice thing to do together."
The duo decided against following the most direct route through the centre of England and Scotland, and instead will be passing through Wales and the Scottish Isle of Arran.
"We're taking a longer route and plan to cover around 90-miles-a-day. With regards to training, I do try to keep fairly fit generally, but usually do it through running," said Mr Hughes.
"I'm away from home a lot through my job and it's easier to go running wherever I am than to bring along a bike.
"However, Oscar and I cycled 300 miles in four days following the Tour de France around Yorkshire this month and made sure we went up and down all the biggest hills.
"We have probably cycled about 2,000 miles overall together overall since Christmas."
He added: "I did a lot of cycling when I was a teenager. I used to do time trial races and long bike rides. I rode from London to Land's End with my dad, but that was over 30 years ago.
"I know I could have done this when I was 15, 16, and 17, but I'm 48 now so it might be a bit different."
They have already reached their £1,250 fundraising target for the cycle effort, but said they would welcome more donations.
Guests at the Niace Adult Learners' Week awards ceremony in London on June 16 donated £270 towards the total.
Mr Hughes said: "I have been volunteering and raising money for Oxfam for more than 30 years so it was a natural choice for our charity.
"Their philosophy is to give people the tools to improve their lives, rather than just giving them food, which I have a lot of time for."
Follow Mr Hughes and Oscar's trip blog at davidoscarlejog.wordpress.com and  visit www.justgiving.com/Oscar-David to donate.
Pictures: (top) Niace chief executive David Hughes pictured in early July on at the summit of Buttertubs peak, in the Yorkshire Dales, which featured in stage one of the Tour de France. Inset: Mr Hughes's son, Oscar, with his bike on Buttertubs