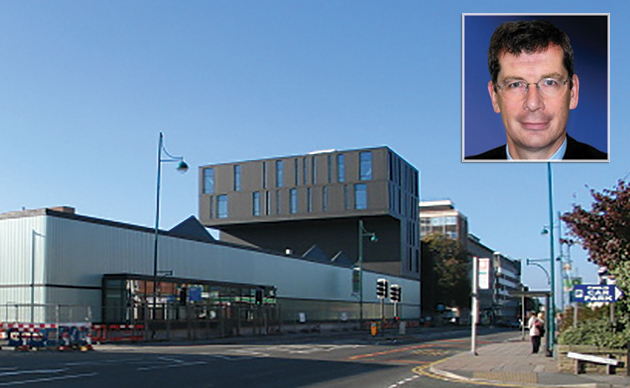 The chair of governors at Stockport College, which was hit with an inadequate Ofsted rating last year before being placed in administered status by the FE Commissioner, is to step down amid concerns for the future of 150 jobs.
Trevor Rees (pictured) told fellow college corporation board members on Thursday (July 10) that he would be stepping down after eight years as chair as soon as his replacement was found.
Mr Rees was reported on the Manchester Evening News website today as saying: "It has been a privilege and an honour to have served on the board. I'm sure the college will go from strength to strength moving forward."
It comes less than a year after Ofsted's visit and follows three underwhelming monitoring reports by the education watchdog.
Former principal Stephen Carlisle was replaced by interim Ian Clinton in February, but since then it has emerged that the 690-worker college, which had already shed 235 jobs in the past three years, was set to cut another 150 jobs after FE Commissioner Dr David Collins recommended it shave £2.5m off staff costs.
One of the first tasks of the new chair will be to find the full-time replacement for Mr Clinton, who said: "I'm grateful to Mr Rees for his support, guidance and commitment to Stockport College. As well as the numerous meetings that Mr Rees attended, he also took particular interest in staff and student welfare issues."
Chartered accountant Mr Rees led a board that had gone from 11 to 15 members since the Ofsted inspection result, which had previously been outstanding.
A college spokesperson said: "Mr Rees informed the board that, having overseen the initial transformation of the college arising from the recommendations of Ofsted and the FE Commissioner through the appointment of an interim principal and the refreshing of the governing body by the appointment of new governors, he felt it was right that the continued improvement of the college should be led by a new chair.
"The board of the corporation will now commence the process for the appointment of a new chair which it hoped could be made as soon as possible."
In its most recent Ofsted monitoring visit report, the 9,000-learner college was deemed to have made insufficient progress in creating and implementing a post-inspection action plan, improving maths and English, and in performance management by senior leaders.
It was, however, was judged to have made reasonable progress on teaching and learning, and curriculum change planning.
With the job cuts, which will mostly affect non-management positions including lecturers, and other measures, the college could, according to Dr Collins, achieve a surplus of £185,000 in 2014/15 by hitting a £25m turnover target.
Speaking in March, Mr Clinton said: "By focusing the college's activities towards the skills needs of Greater Manchester employers, we will be better-able to enhance the job prospects of our learners.
"Sadly, as a consequence, some redundancies are unavoidable. We hope to be able to mitigate the scale of any redundancies by redeploying staff into vacant posts in our growth areas."