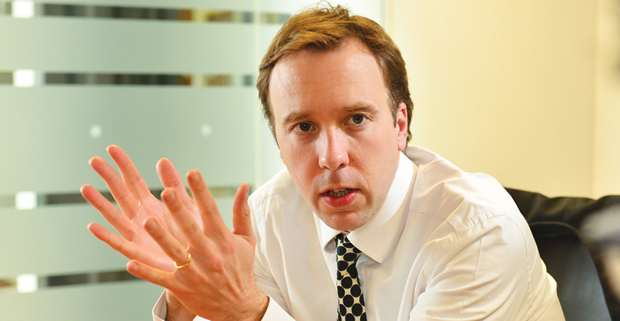 Matthew Hancock has moved to a new shared role at the Department for Business, Innovation and Skills and Department for Energy and Climate Change.
The MP for West Suffolk and former Skills and Enterprise Minister has been appointed as Business, Enterprise and Energy Minister, taking on the work of former Business Minister Michael Fallon, who is the new Defence Secretary.
Mr Hancock will keep the 'enterprise' elements of his former brief. He will also be Minister for Portsmouth, a job previously held by Mr Fallon.
In the shake-up, in which Foreign Secretary William Hague resigned and Education Secretary Michael Gove went to Chief Whip, Mr Hancock got what he had been expecting for weeks — a seat at Cabinet (although he will not hold a Cabinet post). The new Education Secretary is Nicky Morgan, who had recently been promoted to a ministerial role in the Treasury.
Elected as MP for West Suffolk in 2010, Mr Hancock became Skills Minister in 2012.
In an interview with FE Week at the time, he said FE was "something I've cared about for a long time" and said he would be "learning and I'm listening and I'm asking lots of questions".
He added: "I've trying to make sure that I know exactly how the system works and figure out how it can work better."
He hit the ground running with plans to set up the organisation that would become the Education and Training Foundation — then known as the FE Guild — originally proposed by his predecessor John Hayes, which replaced the Learning and Skills Improvement Service (LSIS).
A month later, the Richard Review of Apprenticeships was published, a report that would impact on many of Mr Hancock's policy decisions in office, sparking an ongoing reform of apprenticeship funding.
Apprenticeships are now set to move from being funded through direct government payment to providers, to employers paying for training in return for greater control of the programme — as recommended by review author Doug Richard, a former investor on the BBC's Dragons' Den show.
However, several bodies within the FE and skills sector have expressed concern that such reforms may make apprenticeships too complicated and bureaucratic for smaller employers.
A technical consultation on the reforms, which closed in May, proposed three options — maintaining the current system, bringing in a PAYE system or implementing apprenticeship credit accounts for employers.
The government response to the consultation has not been released.
Mr Hancock said: "We want to see apprenticeships become the new norm for all ambitious young people, and for employers who are dedicated to growing their own talent and increasing the skills base of the nation."
The reforms, he added, were "helping to make this a reality".
The Wolf Report, published a year before Hancock took on the role of Skills Minister, also led to upheaval in the sector, with many vocational qualifications being cut after being deemed "low value".
"We support vocational qualifications that help people into work, so we must focus support on those that employers value," said Mr Hancock.
However, the move has not been without controversy, as organisations such as the National Institute of Adult Continuing Education have warned that although some courses may not lead directly to jobs, they can help to entice adult learners back into education, and inspire them to improve their qualifications.
In January 2013, Mr Hancock announced his flagship programme for young people without the skills or experience to get an apprenticeship — the traineeship, which combines maths, English and employability training with a work experience placement.
The program was launched officially in August 2013 and despite initial problems with recruitment, awareness and benefits rules which prevent trainees from claiming Job Seeker's Allowance, numbers are increasing.
When FE Week spoke with him last year after 12 months in post, he mentioned traineeships as one of the highlights in office.
"They [traineeships] started out as an idea in October, when the work started in earnest, and the high point of the year was meeting a pilot group of trainees at the House of Commons," he said.
The other project Mr Hancock can lay claim to is the Further Education Learning Technology Action Group (Feltag), which he set up with sector and industry experts to find out how FE could make better use of technology.
The group, which published its report in March, has called for sweeping changes to the use of technology in teaching and learning and has spawned a similar group to examine the issue for under-16 education.
When the report was released, Mr Hancock said: "I think we can harness technology to drive up standards. It's about empowering teachers and using technology to improve and strengthen teaching."
While the response to Feltag and traineeships have been largely positive, many in the sector have spoken out against the government's decision to cut the full-time funding rate for 18-year-olds by 17.5 per cent, warning it would damage the chances of people who had been failed by the education system already.
However, Mr Hancock defended the move, saying: "We are faced with a cut across the government to make savings to reach the goals we have to reduce budget deficit. It is difficult being a minister when there's no money left."
Such difficulties didn't stop him from receiving a promotion in September 2013 to Minister of State for Skills and Enterprise (having previously been Skills Minister as Under Secretary of State).
In January 2014 he announced the first new college to open in 21 years since incorporation.
Mr Hancock said a specialist college to train engineers to build and maintain the proposed High Speed 2 rail link would be founded, and just week later this was followed by a second, this time focussed on the skills needed for the nuclear power industry.
He said: "The new college will build on the industry's work — and provide the specialist, advanced skills to meet that demand — and then sell that expertise to the world."
Essex-based charity Prospects Learning Foundation was later revealed to be the college in question. It was not the HS2 college predicted, but a new rail college elsewhere to serve the transport project remains on the cards.
As well as new colleges, a range of new technical and vocational qualifications have been announced during Mr Hancock's time in office, including the TechBacc a measurement requiring maths, an extended writing project and vocational qualifications.
The Tech Level, a vocational qualification that can be done instead of or alongside academic A levels and substantial vocational qualification to help 16 to 19-year-olds with basic skills needs to go straight into a skilled trade or move onto a related Tech-Level, have also been introduced.
When Mr Hancock first took the job as Skills Minister, he told FE Week he was looking forward to finding out "what we can do to make this sector even more successful" and raise its profile.
A number of national newspapers have tipped him for Conservative Party leadership, and even painted him as possible Prime Minister in the future.
Mr Hancock himself has been tight-lipped about his own hopes for the future, but given that he once appeared to compare himself to Winston Churchill in an interview with The Spectator, it's seems safe to say he has ambitions.
When asked about the future during a profile interview with FE Week in April, he replied: "Politics is a team game, so you play the part in the team that you are asked to play."
Click here to read the full FE Week profile interview with Mr Hancock.