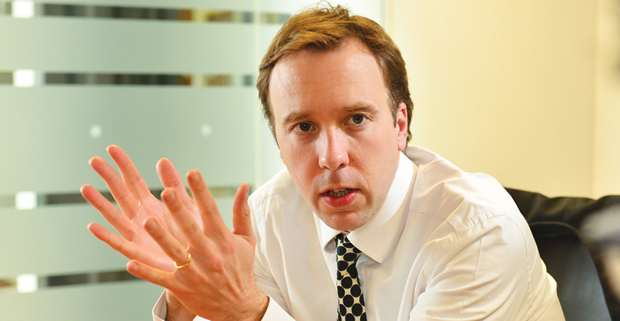 Skills Minister Matthew Hancock has ruled out joining a European apprenticeship development body, despite his counterparts in Wales, Scotland and Northern Ireland saying it could have benefits.
Responding to a written question from Democratic Unionist Party MP Nigel Dodds, Mr Hancock said England would not be joining the European Alliance for Apprenticeships.
However, governments in the devolved nations have all expressed interest in joining the European Commission-managed body, launched in July last year.
Mr Hancock said: "The UK recognises the value of learning from others by keeping abreast of developments in Europe and internationally.
"However, we believe that this can be achieved through less bureaucratic routes than a European Alliance for Apprenticeships.
"In England, we do not propose to participate but the devolved administrations are free to do so if they believe that the Alliance is the appropriate framework for sharing best practice."
The European Alliance for Apprenticeships aims to bring together public authorities, providers, youth representatives and other body to promote apprenticeships, assist in apprenticeship reform programmes and maximise use of funding and resources.
Twenty one European Union member states have so far committed to the group, including Germany, Netherlands, Spain and Austria. Businesses across the EU have also pledged support, including Tesco, Nestle, Siemens and Scottish Power.
The Northern Irish Department for Employment and Learning announced its strategy for apprenticeships last month, which included a commitment to ensure apprenticeships were transferable between countries and explore the possibilities for international placements.
Its Employment and Learning Minister, Dr Stephen Farry, said: "It is envisaged that the European Alliance for Apprenticeships may offer the potential to share best practice, benchmark provision and develop networks for the purpose of supporting placements and exchanges of apprenticeships across Europe."
Dr Farry, FE Week understands, has had discussions with the European Commission over joining the alliance.
A Welsh government spokesperson said: "We are currently considering whether we should join the European Alliance for Apprenticeships and a decision will be made very shortly."
A Scottish government spokesperson said: "We are currently looking at whether the European Apprenticeship Alliance would be a helpful addition to our programmes supporting more people into work."
She added that an independent Scottish government would also adopt the European Youth Guarantee where young people are guaranteed a job or further training after four months of unemployment.