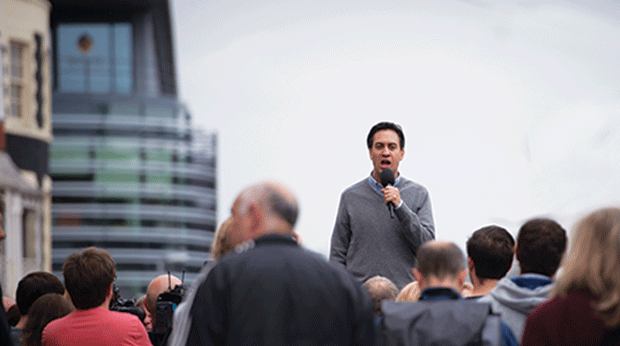 Labour leader Ed Miliband has unveiled plans to "revolutionise learning and training" with new technical degrees delivered by the country's top universities and designed with leading businesses.
Speaking at a vocational education summit in London this morning, he told how "those who have excelled in vocational education and training" would be given the opportunity to take their learning further, through university.
Mr Miliband said: "I am clear that the priority for expansion of university places must be based on assessment of what Britain, our young people and our businesses need in the future when we will compete with the rest of the world on quality, innovation, science and skills. So my priority will be technical degrees, delivered in partnership with business and universities.
"This is a new direction for our country: equal status for vocational qualifications from school to university and beyond; equipping our young people with the skills they need; and providing our country with a reason to be confident for the future so we can compete with the very best economies in the world in a race to the top."
The speech came at the Sutton Trust's Higher Ambitions summit, at London's Institution of Civil Engineers. Skills Minister Matthew Hancock was due to speak later at the event.
"For too long governments have believed there is only one way to success through education which is to follow the conventional academic route: to do GCSEs, A-levels, a traditional academic subject at university and then on to career," said Mr Miliband.
He added: "But that kind of aspiration cannot be limited only to those young people who choose a conventional academic route. We must be One Nation, not two, because we know that route doesn't work for everyone and we know as well there have not been clear enough alternatives.
"What do we say to a young person at school thinking about their career for the first time if they don't want to do traditional academic subjects? What is the gold-standard vocational qualification? What should they be aiming for in the long-run? What do they need to do to get there?
"We know other countries get this right. In Germany, there are proper, joined-up qualifications at every level — pathways on to apprenticeships and careers. Where other countries have succeeded, we have failed our young people.
"For the first time in a century there is the real danger of our children doing worse than their parents, of the Promise of Britain being broken, and our country going into decline. We cannot afford to allow people's talents to go undeveloped and their hopes unfulfilled.
"A Labour government, working with business and universities, will revolutionise learning and training to underpin the high wage, high skill, high quality economy we will build together for the future.
"The government I plan to lead in 10 months' time will put this right with reform of vocational education is central to this mission.
"And I can announce today that we will go one step further too by introducing new Technical Degrees as the culmination of our reform agenda for the forgotten 50 per cent who do not currently go to university.
"These courses will be designed together by some of our best universities and our leading employers, teaching people the skills they need to prosper in the new economy.
"For the first time, those who have excelled in vocational education and training will be able to progress further. For the first time young people will have the chance to earn while they learn at university with a degree that provides a clear route to a high skilled technical or professional career. For the first time employers will be able to people who see their long term future with the firm and then develop their specialist skills so they can succeed together."
The announcement of plans for the technical degrees follows other FE and skills plans from Labour, including the creation of a Technical Baccalaureate for 16 to 19-year-olds with level three qualifications accredited by employers and a work placement, as well as requiring all young people to continue studying English and maths to age 18.
The party has also said it wants lecturers to hold teaching qualifications and for the best FE colleges to become Institutes of Technical Education.