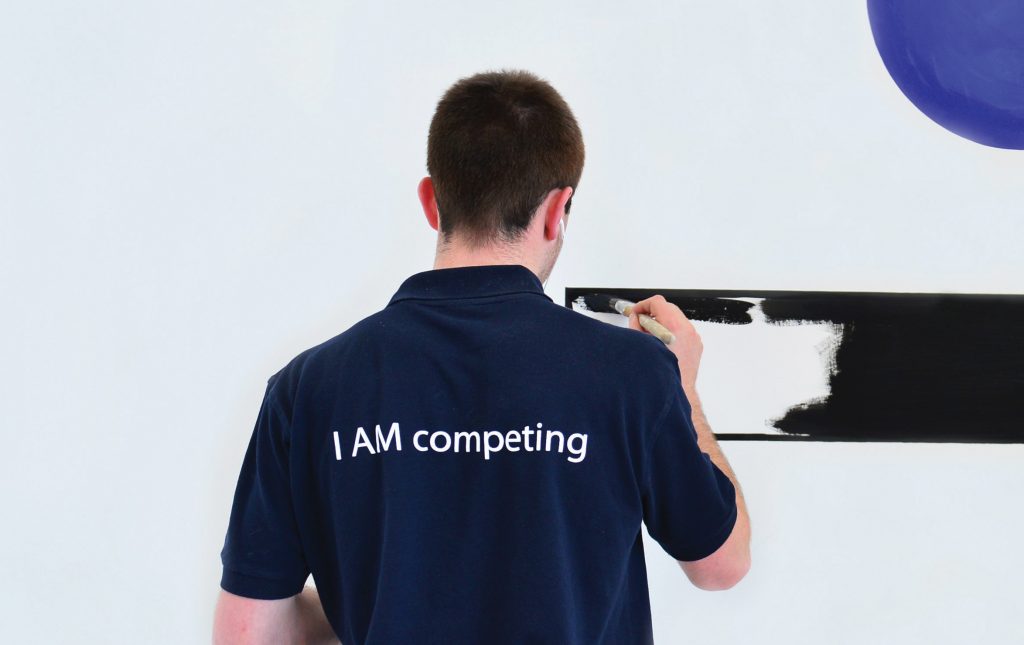 Almost 100 young people were today (July 7) confirmed as UK squad members for next year's WorldSkills competition in Brazil.
Following three days of gruelling tests in their different skill areas, 98 young people landed a spot on the squad, offering them the chance to go on to compete at WorldSkills in Sao Paulo next year.
The successful competitors will now undergo 11 months of training to bring them up to world class standard, before the final team for Brazil is picked.
Former Westminster Kingsway College cookery apprentice Danny Hoang, aged  20, was one of those who made it on to the squad.
Danny, who is now a chef at The Grove Hotel, in Watford, said: "When I heard I'd got through I just felt massive delight — this week was really, really hard, physically, mentally and technically but I'm really happy with the results.
"When I was standing waiting to hear the judges' decision I was really nervous — I had a flashback of all my mistakes through the week so I wasn't sure I'd get through."
The best bit of the squad selection process, he added, was being able to gauge his own performance and see it improve throughout the week.
"It's been good to be around people who are just as passionate in their own skill and are same-minded as well, " he said.
"That's probably one of the strongest supports you can have in a competition like this."
Danny made it to selection stage last year, but didn't get through to squad.
After two years' involvement with the competition, Danny described his WorldSkills experience so far as "amazing and life-changing".
Hairdressing competitor Eleni Constantinou, 21, who is an apprentice at her father's salon, Tino Constantinou in Cardiff, said: "It's like a complete and utter rollercoaster — at the beginning you think if 'I do it I do it, if I don't, I don't' but then it becomes such a big thing.
"Until you're sat out there you'll never know how much it means, you don't realise until it gets closer — it's the worst thing, but when you find out you've got in, it's the best, so you get the best and worst in one day."
The selection announcement came as a surprise for Mirella McGee, 20 and from Kent, an architectural stonemasonry apprentice at Canterbury Cathedral.
"I thought I didn't get through — I was told only three would get through, and I heard three of the others' names and 'I thought oh never mind' and then they said my name," she said.
"I thought I'd really messed up on the last day and that was it my alarm didn't go off in the morning so I missed the briefing and just everything went wrong… so I'd just accepted that I wasn't going through."
She added: "It means everything to get through — it's the experience, I've proved to myself that I'm a bit better than I sometimes think, because I don't often have much confidence in my work and I guess the training weeks and stuff have paid off because I wouldn't have been able to do this when I started out — I'm really looking forward to carrying on with the training."
Skills Minister Matthew Hancock congratulated the squad members.
"The World Skills Competition is an opportunity for the UK to showcase and celebrate our young apprentices on the global stage," he said.
"It goes to show, that for every skill and every vocational area, we can and should celebrate excellence.
"The young people who have earned a place on Squad UK are ambassadors for our country and demonstrate how high quality apprenticeships can lead to successful careers."
In the first week of October, 14 of the 37 skills will put forward competitors for EuroSkills, and squad members will also have a chance to show off and hone their skills at The Skills Show, which takes place from November, 13 to 15.
Click here to see some of the squad members in action during the selection process — see below for the full list of competitors.
 
County
Region
Training Provider / College
Employer
Aircraft Maintenance
Joe Hedley, 22
Wiltshire
South West
Qinetiq Apprentice Training School
Qinetiq Training School MOD Boscombe Down
Shayne Hadland, 23
Oxfordshire
South East
Defence College of Aeronautical Engineering Cosford
RAF Benson
Autobody Repair
Ryan Jones, 19
Leicester
East Midlands
Auto Restore
Auto Restore
James Crawford, 20
Belfast
Northern Ireland
RiverPark Training
Crawfords Accident Repair Centre
Autobody Technology
Jamie Betts, 20
Aberdeen
Scotland
Raytheon
Regency Car Sales
Elijah Summer, 19
Cardiff
Wales
Provq
Halfords Autocentre
Declan McGarth, 20
Co. Fermanagh
Northern Ireland
South West College
Bundoran Motors
Car Paint
Rebecca Wilson, 21
Co. Down
Northern Ireland
RiverPark Training
C M Accident Repair Centre
Patrick Quinn, 21
Co. Antrim
Northern Ireland
RiverPark Training
Quinn Specialist Vehicles
James Grayson, 21
Sheffield
Yorkshire & The Humber
Chesterfield College
S & G Coachworks
Leon Ivin, 20
Mors  Motonmouthshire
Wales
College Gwent
Mager
Refrigeration
Christopher Ballie, 20
Co. Down
Northern Ireland
South Eastern Regional College
BL Refrigeration and AC Limited
Joseph Conroy, 20
Berkshire
South East
Eastleigh College
Trane UK
Ryan Unwin, 21
Manchester
North West
Manchester College
Bruntwood
Cooking
Ruth Hansom, 18
London
London
Westminster Kingsway College
The Ritz
Danny Hoang, 20
London
London
Westminster Kingsway College
The Grove Hotel
Confectionery / Pastry Cook
Sophie Bamford, 20
London
London
Westminster  Kingsway College
William Curley
Mikaela Wright, 20
Glasgow
Scotland
City of Glasgow College
Restaurant Service
Daniel Harrison, 21
Auchterarder
Scotland
Buxton College
Gleneagles
Lucy Jones, 20
Hampshire
South West
Brockenhurst College
Chewton Glen Hotel & Spa
Olivia Whitbread, 20
Kent
South East
Westminster Kingsway College
The Bell Hotel
Beauty Therapy
Rianne Chester, 21
Cheshire
North West
Warrington Collegiate
Akira Nails and Beauty
Amber Scholes, 18
Norfolk
East of England
Great Yarmouth College
Aphrodite Beauty Studio
Ashlea Gissing, 18
Suffolk
East of England
Great Yarmouth College
Rosie's Beautician & Day Spa
Hairdressing
Eleni Constantinou, 21
Caerphilly
Wales
Tina Constantinou
Abigail Moreton, 20
Herefordshire
West Midlands
Reds Hair  Company
Reds Hair Company
Lucy Knight, 19
Bristol
South West
City of Bristol College
Samuel David Hairdressing
Visual Merchandising
Jasmine Field, 19
Berkshire
South East
Fashion Retail Academy
Marks and Spencer
Catherine Abbot, 18
Berkshire
South East
Fashion Retail Academy
Ashley Goult, 19
London
London
Fashion Retail Academy
Abigail Beekes, 19
Surrey
South East
Fashion Retail Academy
Floristry
Danielle Scanlon, 19
Surrey
South East
Merrist Wood College
Bunches and Pots
Zoe Rowlinson, 19
Oxfordshire
South East
Warwickshire College
The Garden
Louisa Cooper, 20
Staffordshire
West Midlands
South Staffordshire College
School Farm Shop
Jewellery
Ben Pritchard, 20
Essex
East of England
The Goldsmiths' Company
Emson Haig
Hugo Johnson, 18
West Sussex
South East
The Goldsmiths' Company
RTFJ
Tylor Ansell, 20
Kent
South East
The Goldsmiths' Company
Cartier
Health and Social Care
Hayley Edwards, 17 (will be 18 at time of competition if selected)
Cleveland
North East
Middlesbrough College
Georgina Ravenscroft, 19
Merseyside
North West
Knowsley Community CollegeKings College London
Amy Mitchell, 18
Staffordshire
West Midlands
Newcastle –under-Lyme College
Industrial Control
Ashley Eyley, 21
South Derbyshire
East Midlands
Burton College
Toyota
Luke Elsmore, 19
Caerphilly
Wales
Newport University
Industrial Automation and Control
Alex Scott, 21
Newport
Wales
Newport University
Industrial Automation and Control
Hayley Ramadhar, 18
Staffordshire
West Midlands
Black County Technical College
Industrial Electronics
Naomi Stephenson, 19
Co. Down
Northern Ireland
South Eastern Regional College
Mechanical Engineering CAD
Andrew  Beel, 20
Glasgow
Scotland
New College Lanarkshire
Pacson Valves
CNC Turning
Alex Elton, 19
Warwickshire
West Midlands
North Warwickshire & Hinckley College
Clamonta
CNC Milling
Michael Watson, 20
Bristol
South West
City of Bristol College
GKN Aerospace
Steven Castle, 19
Bristol
South West
City of Bristol College
GKN Aerospace
Architectural Stonemasonry
John Reid, 19
Elgin
Scotland
Elgin Training Unit
Historic Scotland
Sam Turner, 18
Leeds
Yorkshire & The Humber
York College
The Dean and Chapter of York
Connor Crawford, 18
Argyll
Scotland
Elgin Training Unit
Historic Scotland
Mirella McGee, 20
Kent
South East
The Building Crafts College
The Dean and Chapter of Canterbury Cathedral
Plumbing and Heating
Shane Brannagan, 20
Co. Down
Northern Ireland
Southern Regional College
Self – Employed
Gary Doyle, 19
Co. Down
Northern Ireland
Southern Regional College
Kieran Trainor
Mechatronics
John Peerless, 22
Harrow
London
Middlesex University
Calum Knott, 21
London
London
Middlesex University
Andy Smith, 20
Chester
North West
Toyota Manufacturing UK
Toyota Manufacturing UK
Robyn Clarke, 21
Chester
North West
Toyota Manufacturing UK
Toyota Manufacturing UK
Welding
Thomas Beardsley, 20
North Yorkshire
Yorkshire & The Humber
Chesterfield College
National Grid
Reece Taylor, 21
Co. Durham
North East
Derwentside College
Dyer Engineering
Kurt Rogers, 20
Doncaster
Yorkshire & The Humber
Newcastle – Under – Lyme College
Alstom
Sheet Metal Technology 
Jack Higgins, 19
Birmingham
West Midlands
Wolverhampton College
Radshape Sheet Metal Ltd
Harley Brian, 19
Staffordshire
West Midlands
KMF
KMF
Ryan Murphy, 19
Stoke on Trent
West Midlands
KMF
KMF
Construction Metal Works
Christopher Hanson,   20
Bradford
Yorkshire & The Humber
City Training Bradford
Richard Allan
Gethin Jones, 19
Llandysul
Wales
Coleg Sir Gar
Morris Fabrication & Welding
Josh Proctor, 19
Cumbria
North West
Furness College
BAE Systems
Landscape Gardening
Jonathan Gill, 20
Co. Down
Northern Ireland
CAFRE
Historic Royal Palaces
Matthew Beasley, 20
Cheshire
North West
Beesley Landscapes
Aaron Jamieson, 20
Co. Down
Northern Ireland
CAFRE
Lawn + Border Landscapes
Adam Ferguson, 18
Co. Antrim
Northern Ireland
CAFRE
Carpentry
Owain Jones, 20
Gwynedd
Wales
coleg meirion dwyfor
H B Daverport
Mark Hawthorne, 21
Co. Down
Northern Ireland
South Eastern Regional College
Trainor Contracts
Simon McCall, 20
Carmathernshire
Wales
Coleg Sir Gar
Jones & Johnson
Joinery
Dominic Hicks, 20
Pembrokeshire
Wales
Pembrokeshire College
Keating Joinery Ltd
Dale Hodgins, 21
Gloucestershire
South West
OCVC
Oakleigh Joinery
Painting and Decorating
Curtis Baker, 19
Doncaster
Yorkshire & The Humber
Doncaster College
Togel Contractors
Brendan Magee, 20
Co. Down
Northern Ireland
Southern Regional College
Ryan O'Gorman Painting & Decorating
Connor Lambton, 18
Cumbria
North West
Furness College
Horrocks
Brick Work
Louis Wilkinson, 20
East Sussex
South East
Sussex Downs College
Owen Contractors
Ryan Stevens, 19
Shropshire
West Midlands
Shrewsbury College
Craig Chatwood Building Contractors
Jason Whitehead, 21
Barnsley
Yorkshire & the Humber
Barnsley College
Barratt Homes
Connor Cutsforth, 21
Hull
Yorkshire & the Humber
Hull College
Beal Homes
Plastering & Dry Wall Lining
Robert Johnson, 21
Middlesbrough
North East
Redcar & Cleveland College
Classic Plaster Moulds
Nathan Roblin, 21
Ammanford
Wales
Ross
DJ Plastering
Ian Magee, 18
Co. Antrim
Northern Ireland
Belfast Metropolitans College
Gordon Scott
Wall and Floor Tiling
Martin McLaughlin, 18
Derry~Londonderry
Northern Ireland
North West Regional College
Daryl Dailly, 20
Renfrewshire
Scotland
City of Glasgow College
DNA Tiling Specialists
Cabinet Making
Edward Harringman, 20
East Sussex
South East
Chichester College
Harringman Cabinet Making
Steve Pickton, 20
West Sussex
South East
Chichester  College
Grech and Grech
Sam Brister, 20
Buckinghamshire
South East
Electrical Installation
Adrian Canning, 21
Derry~Londonderry, Northern Ireland
Northern Ireland
North West Regional College
AC Electrical
Willi

| | | | | |
| --- | --- | --- | --- | --- |
|   | County | Region | Training Provider / College | Employer |
| Aircraft Maintenance | | | | |
| Joe Hedley, 22 | Wiltshire | South West | Qinetiq Apprentice Training School | Qinetiq Training School MOD Boscombe Down |
| Shayne Hadland, 23 | Oxfordshire | South East | Defence College of Aeronautical Engineering Cosford | RAF Benson |
| | | | | |
| Autobody Repair | | | | |
| Ryan Jones, 19 | Leicester | East Midlands | Auto Restore | Auto Restore |
| James Crawford, 20 | Belfast | Northern Ireland | RiverPark Training | Crawfords Accident Repair Centre |
| | | | | |
| Autobody Technology | | | | |
| Jamie Betts, 20 | Aberdeen | Scotland | Raytheon | Regency Car Sales |
| Elijah Summer, 19 | Cardiff | Wales | Provq | Halfords Autocentre |
| Declan McGarth, 20 | Co. Fermanagh | Northern Ireland | South West College | Bundoran Motors |
| | | | | |
| Car Paint | | | | |
| Rebecca Wilson, 21 | Co. Down | Northern Ireland | RiverPark Training | C M Accident Repair Centre |
| Patrick Quinn, 21 | Co. Antrim | Northern Ireland | RiverPark Training | Quinn Specialist Vehicles |
| James Grayson, 21 | Sheffield | Yorkshire & The Humber | Chesterfield College | S & G Coachworks |
| Leon Ivin, 20 | Mors  Motonmouthshire | Wales | College Gwent | Mager |
| | | | | |
| Refrigeration | | | | |
| Christopher Ballie, 20 | Co. Down | Northern Ireland | South Eastern Regional College | BL Refrigeration and AC Limited |
| Joseph Conroy, 20 | Berkshire | South East | Eastleigh College | Trane UK |
| Ryan Unwin, 21 | Manchester | North West | Manchester College | Bruntwood |
| | | | | |
| Cooking | | | | |
| Ruth Hansom, 18 | London | London | Westminster Kingsway College | The Ritz |
| Danny Hoang, 20 | London | London | Westminster Kingsway College | The Grove Hotel |
| | | | | |
| Confectionery / Pastry Cook | | | | |
| Sophie Bamford, 20 | London | London | Westminster  Kingsway College | William Curley |
| Mikaela Wright, 20 | Glasgow | Scotland | City of Glasgow College | |
| | | | | |
| Restaurant Service | | | | |
| Daniel Harrison, 21 | Auchterarder | Scotland | Buxton College | Gleneagles |
| Lucy Jones, 20 | Hampshire | South West | Brockenhurst College | Chewton Glen Hotel & Spa |
| Olivia Whitbread, 20 | Kent | South East | Westminster Kingsway College | The Bell Hotel |
| | | | | |
| Beauty Therapy | | | | |
| Rianne Chester, 21 | Cheshire | North West | Warrington Collegiate | Akira Nails and Beauty |
| Amber Scholes, 18 | Norfolk | East of England | Great Yarmouth College | Aphrodite Beauty Studio |
| Ashlea Gissing, 18 | Suffolk | East of England | Great Yarmouth College | Rosie's Beautician & Day Spa |
| | | | | |
| Hairdressing | | | | |
| Eleni Constantinou, 21 | Caerphilly | Wales | | Tina Constantinou |
| Abigail Moreton, 20 | Herefordshire | West Midlands | Reds Hair  Company | Reds Hair Company |
| Lucy Knight, 19 | Bristol | South West | City of Bristol College | Samuel David Hairdressing |
| | | | | |
| Visual Merchandising | | | | |
| Jasmine Field, 19 | Berkshire | South East | Fashion Retail Academy | Marks and Spencer |
| Catherine Abbot, 18 | Berkshire | South East | Fashion Retail Academy | |
| Ashley Goult, 19 | London | London | Fashion Retail Academy | |
| Abigail Beekes, 19 | Surrey | South East | Fashion Retail Academy | |
| | | | | |
| Floristry | | | | |
| Danielle Scanlon, 19 | Surrey | South East | Merrist Wood College | Bunches and Pots |
| Zoe Rowlinson, 19 | Oxfordshire | South East | Warwickshire College | The Garden |
| Louisa Cooper, 20 | Staffordshire | West Midlands | South Staffordshire College | School Farm Shop |
| | | | | |
| Jewellery | | | | |
| Ben Pritchard, 20 | Essex | East of England | The Goldsmiths' Company | Emson Haig |
| Hugo Johnson, 18 | West Sussex | South East | The Goldsmiths' Company | RTFJ |
| Tylor Ansell, 20 | Kent | South East | The Goldsmiths' Company | Cartier |
| | | | | |
| Health and Social Care | | | | |
| Hayley Edwards, 17 (will be 18 at time of competition if selected) | Cleveland | North East | Middlesbrough College | |
| Georgina Ravenscroft, 19 | Merseyside | North West | Knowsley Community CollegeKings College London | |
| Amy Mitchell, 18 | Staffordshire | West Midlands | Newcastle –under-Lyme College | |
| | | | | |
| Industrial Control | | | | |
| Ashley Eyley, 21 | South Derbyshire | East Midlands | Burton College | Toyota |
| Luke Elsmore, 19 | Caerphilly | Wales | Newport University | Industrial Automation and Control |
| Alex Scott, 21 | Newport | Wales | Newport University | Industrial Automation and Control |
| Hayley Ramadhar, 18 | Staffordshire | West Midlands | Black County Technical College | |
| | | | | |
| Industrial Electronics | | | | |
| Naomi Stephenson, 19 | Co. Down | Northern Ireland | South Eastern Regional College | |
| | | | | |
| Mechanical Engineering CAD | | | | |
| Andrew  Beel, 20 | Glasgow | Scotland | New College Lanarkshire | Pacson Valves |
| | | | | |
| CNC Turning | | | | |
| Alex Elton, 19 | Warwickshire | West Midlands | North Warwickshire & Hinckley College | Clamonta |
| | | | | |
| CNC Milling | | | | |
| Michael Watson, 20 | Bristol | South West | City of Bristol College | GKN Aerospace |
| Steven Castle, 19 | Bristol | South West | City of Bristol College | GKN Aerospace |
| | | | | |
| Architectural Stonemasonry | | | | |
| John Reid, 19 | Elgin | Scotland | Elgin Training Unit | Historic Scotland |
| Sam Turner, 18 | Leeds | Yorkshire & The Humber | York College | The Dean and Chapter of York |
| Connor Crawford, 18 | Argyll | Scotland | Elgin Training Unit | Historic Scotland |
| Mirella McGee, 20 | Kent | South East | The Building Crafts College | The Dean and Chapter of Canterbury Cathedral |
| | | | | |
| Plumbing and Heating | | | | |
| Shane Brannagan, 20 | Co. Down | Northern Ireland | Southern Regional College | Self – Employed |
| Gary Doyle, 19 | Co. Down | Northern Ireland | Southern Regional College | Kieran Trainor |
| | | | | |
| Mechatronics | | | | |
| John Peerless, 22 | Harrow | London | Middlesex University | |
| Calum Knott, 21 | London | London | Middlesex University | |
| Andy Smith, 20 | Chester | North West | Toyota Manufacturing UK | Toyota Manufacturing UK |
| Robyn Clarke, 21 | Chester | North West | Toyota Manufacturing UK | Toyota Manufacturing UK |
| | | | | |
| Welding | | | | |
| Thomas Beardsley, 20 | North Yorkshire | Yorkshire & The Humber | Chesterfield College | National Grid |
| Reece Taylor, 21 | Co. Durham | North East | Derwentside College | Dyer Engineering |
| Kurt Rogers, 20 | Doncaster | Yorkshire & The Humber | Newcastle – Under – Lyme College | Alstom |
| | | | | |
| Sheet Metal Technology  | | | | |
| Jack Higgins, 19 | Birmingham | West Midlands | Wolverhampton College | Radshape Sheet Metal Ltd |
| Harley Brian, 19 | Staffordshire | West Midlands | KMF | KMF |
| Ryan Murphy, 19 | Stoke on Trent | West Midlands | KMF | KMF |
| | | | | |
| Construction Metal Works | | | | |
| Christopher Hanson,   20 | Bradford | Yorkshire & The Humber | City Training Bradford | Richard Allan |
| Gethin Jones, 19 | Llandysul | Wales | Coleg Sir Gar | Morris Fabrication & Welding |
| Josh Proctor, 19 | Cumbria | North West | Furness College | BAE Systems |
| | | | | |
| Landscape Gardening | | | | |
| Jonathan Gill, 20 | Co. Down | Northern Ireland | CAFRE | Historic Royal Palaces |
| Matthew Beasley, 20 | Cheshire | North West | | Beesley Landscapes |
| Aaron Jamieson, 20 | Co. Down | Northern Ireland | CAFRE | Lawn + Border Landscapes |
| Adam Ferguson, 18 | Co. Antrim | Northern Ireland | CAFRE | |
| | | | | |
| Carpentry | | | | |
| Owain Jones, 20 | Gwynedd | Wales | coleg meirion dwyfor | H B Daverport |
| Mark Hawthorne, 21 | Co. Down | Northern Ireland | South Eastern Regional College | Trainor Contracts |
| Simon McCall, 20 | Carmathernshire | Wales | Coleg Sir Gar | Jones & Johnson |
| | | | | |
| Joinery | | | | |
| Dominic Hicks, 20 | Pembrokeshire | Wales | Pembrokeshire College | Keating Joinery Ltd |
| Dale Hodgins, 21 | Gloucestershire | South West | OCVC | Oakleigh Joinery |
| | | | | |
| Painting and Decorating | | | | |
| Curtis Baker, 19 | Doncaster | Yorkshire & The Humber | Doncaster College | Togel Contractors |
| Brendan Magee, 20 | Co. Down | Northern Ireland | Southern Regional College | Ryan O'Gorman Painting & Decorating |
| Connor Lambton, 18 | Cumbria | North West | Furness College | Horrocks |
| | | | | |
| Brick Work | | | | |
| Louis Wilkinson, 20 | East Sussex | South East | Sussex Downs College | Owen Contractors |
| Ryan Stevens, 19 | Shropshire | West Midlands | Shrewsbury College | Craig Chatwood Building Contractors |
| Jason Whitehead, 21 | Barnsley | Yorkshire & the Humber | Barnsley College | Barratt Homes |
| Connor Cutsforth, 21 | Hull | Yorkshire & the Humber | Hull College | Beal Homes |
| | | | | |
| Plastering & Dry Wall Lining | | | | |
| Robert Johnson, 21 | Middlesbrough | North East | Redcar & Cleveland College | Classic Plaster Moulds |
| Nathan Roblin, 21 | Ammanford | Wales | Ross | DJ Plastering |
| Ian Magee, 18 | Co. Antrim | Northern Ireland | Belfast Metropolitans College | Gordon Scott |
| | | | | |
| Wall and Floor Tiling | | | | |
| Martin McLaughlin, 18 | Derry~Londonderry | Northern Ireland | North West Regional College | |
| Daryl Dailly, 20 | Renfrewshire | Scotland | City of Glasgow College | DNA Tiling Specialists |
| | | | | |
| Cabinet Making | | | | |
| Edward Harringman, 20 | East Sussex | South East | Chichester College | Harringman Cabinet Making |
| Steve Pickton, 20 | West Sussex | South East | Chichester  College | Grech and Grech |
| Sam Brister, 20 | Buckinghamshire | South East | | |
| | | | | |
| Electrical Installation | | | | |
| Adrian Canning, 21 | Derry~Londonderry, Northern Ireland | Northern Ireland | North West Regional College | AC Electrical |
| William Falconer, 20 | Derry~Londonderry | Northern Ireland | North West  Regional College | Falconer Electrical |
| Theo Webster, 20 | Devon | South West | Petroc | KA & TD Williams Ltd |
| | | | | |
| IT Network Administration | | | | |
| Richard Miller, 19 | Motherwell | Scotland | New College Lanarkshire | |
| Bartosz Durma, 19 | Bedfordshire | East of England | Barnfield College | |
| | | | | |
| Web Design | | | | |
| Daniel Levings, 18 | Hampshire | South East | Highbury College | |

am Falconer, 20

Derry~Londonderry
Northern Ireland
North West  Regional College
Falconer Electrical
Theo Webster, 20
Devon
South West
Petroc
KA & TD Williams Ltd
IT Network Administration
Richard Miller, 19
Motherwell
Scotland
New College Lanarkshire
Bartosz Durma, 19
Bedfordshire
East of England
Barnfield College
Web Design
Daniel Levings, 18
Hampshire
South East
Highbury College