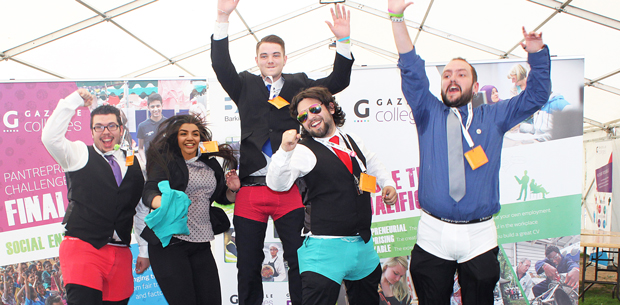 Winning 'pantrapeneurs' raise more than £4,000
team of learners from Barking & Dagenham College have secured the title of the nation's best student pantrepeneurs.
The Pantrepreneur Challenge 2014 saw 670 students from 16 colleges tasked with marketing, promoting and selling ethically sourced, designer pants.
The winning team from Barking and Dagenham College featured Steven Upton, Shaheen Iqbal and Rhys Howard, all aged 19, Phillip Newberry 22, and Thomas Gill 21, who are studying business, creative media production and animation courses.
They raised more than £4,000 through selling male and female underwear provided by the Pants To Poverty campaign, which aims to help raise living standards across the world.
Thomas, who is studying for a foundation degree in animation, said: "Getting involved in this competition developed my business skill which has helped me create my own future."
The national competition organised through the Gazelle Colleges Group raised more than £12,000 in total from pants sales, of which £2,500 will go to the Pi Foundation that supports people in rural India. The rest will fund entrepreneurial projects at colleges.
Cap-from left: Students Steve Upton, Shaheen Iqbal, Rhys Howardand Thomas Gill