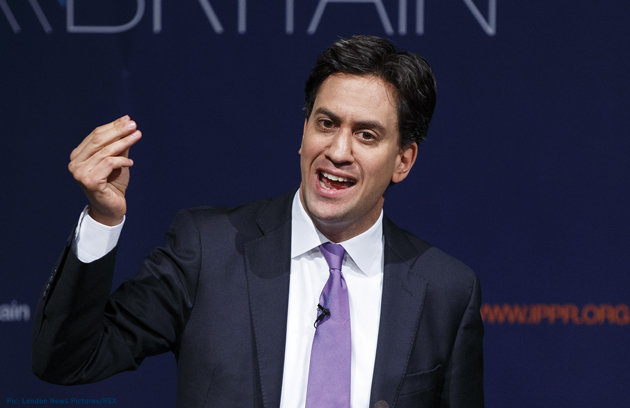 The Labour Party is expected to back calls to establish 100 more University Technical Colleges (UTCs) by 2020, despite a string of poor Ofsted gradings for existing UTCs.
Labour leader Ed Miliband (pictured above) will accept a series of recommendations from the Adonis Review, 'Mending the fractured economy: Smarter state, better jobs'. 
The review, written by Lord Adonis for the Labour Party and supported by Policy Network, will argue that the next government should "establish at least 100 University Technical Colleges by 2020 focused on growth areas of the economy.
"UTCs should be a priority when building new schools, to help increase opportunities for technical education.
"They offer young people aged between 14 and 19 the opportunity to gain a more technical education, which is enhanced by links with local universities, further education colleges and employers."
However all UTCs, which provide vocational education alongside academic qualifications for 14 to 19-year-olds, inspected by Ofsted to date have been graded inadequate or requires improvement by the education watchdog.  
The review will also recommend that the number of apprenticeships in science, technology, engineering and maths should triple, schools should appoint directors of enterprise and employment to give teenagers better careers guidance and that more than £30bn of funding identified by the review should be handed over to Local Enterprise Partnerships (Leps), which would have the power to spend the cash on employment and adult skills, housing, transport and business support.
The Adonis Review will say "major expansion of high quality vocational and technical education and STEM apprenticeships for young people, offering more and better work-and-train opportunities in all sectors of the economy" was imperative.
"Courses for apprenticeships should only be funded by government where they are accredited by professional bodies.
"Leps should help drive the take-up of apprenticeships among employers at local level and have a much stronger say in what college-based courses are funded locally.
"The public sector should also recruit far more apprentices and mobilise its huge procurement budgets to promote apprenticeships more widely."
At the launch of the review in Leeds tomorrow Mr Miliband will say: "If we are to create the wealth of the future and solve the cost of living crisis, we must help create high-quality private-sector jobs not just in one part of Britain, but in every part of Britain.
"It is what businesses, universities and civic leaders are trying to recreate here in Leeds – a clear mission for the future backed by investment in infrastructure, world-leading education, science and research, gold-standard apprenticeships.
"But it cannot begin unless we give you the power to make it possible.'
Lord Adonis will add, "Growth is unbalanced.
"The link between growth and living standards has been broken, exports are weak, young people widely lack the opportunities they deserve and inequality is vast, both between people and between regions.
"Whitehall needs to hand down budgets and powers for this purpose – not just talk about handing them down, as the Coalition has done since the Heseltine Report.
"England's business leaders and local governments need empowering to invest in infrastructure, skills and economic development."
The Adonis Review is expected to form the basis of Labour's skills and business policy in their election manifesto for next year's general election.