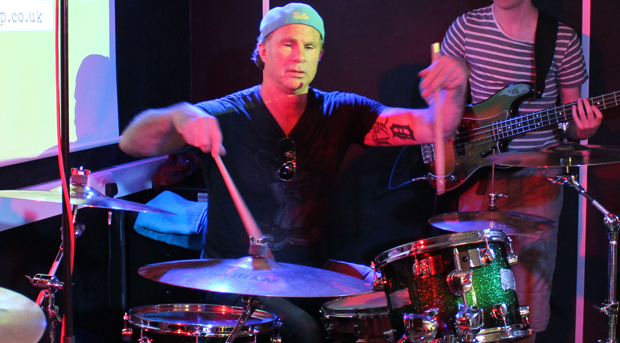 Stadium-rocking drummer for the Red Hot Chilli Peppers Chad Smith jammed with students during a surprise visit to North West London's Institute of Contemporary Music Performance.
Mr Smith, who has drummed for the funk-rock band since 1988, spoke to around 100 level three to five music students and also joined in a jamming session with learners.
He said: "There are no shortcuts, work hard. You have to put the work in.
"Play with as many other people as you can and learn as many different types of music as you can because it will always help you to become more well-rounded musicians."
The drummer was invited to deliver the speech by his friend Ian Edwards, head of marketing and admissions at the Institute.
He said: "I am so grateful to Chad. He is such an inspirational musician and passionate communicator who is totally focused on supporting and encouraging students to build real careers in the music industry."
Cap: From left: Red Hot Chilli Peppers drummer Chad Smith in a jamming session with students.