Educators are unlikely militants. Most FE teachers I have met would do anything rather than let down their learners. So what has brought us to the position where Lambeth College teachers are into their third week of indefinite strike action?
Our members are committed professionals, but they are not pushovers. The college has imposed an inferior contract for new staff, and the crux of the dispute is that they say its terms are "non-negotiable".
My hope is
that this initiative will lead to a more positive dialogue with the college
Our members' fears about the contracts will be obvious to most — the creation of a two-tier workforce will undermine current staff conditions; some staff will be paid less for the same work as colleagues; and conditions which compare poorly to similar London colleges will make it even harder for a college which already has 24 per cent staff turnover to recruit. Yet the college refuses to listen to these concerns or to even acknowledge the worries that staff have.
Twice members have been balloted. Twice they have delivered massive majorities for action on turnouts that even Boris Johnson would think provided a mandate. Yet as said, the decision to go on strike has been agonising for most and the impact upon students is always at the top of their minds.
That is why when I read of students' pleas to both sides to "sort it out so we can get our teachers back," I asked officials to once again contact the college to offer unconditional talks.
My hope is that this initiative will lead to a more positive dialogue with the college. I speak from experience when I say that it is only through genuine negotiation that this dispute will be solved and until that time, as FE Week readers would expect, my union will stand 100 per cent behind our members.
Sally Hunt, University and College Union (UCU) general secretary
—————————————————————————————————————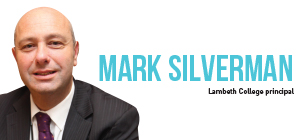 The new contract for new staff is part of the wider plan to ensure the long-term success of the college, so that it is 'fit for purpose' and able to secure outstanding provision alongside financial sustainability.
Following a failed Ofsted inspection in early 2012, alongside years of declining enrolments, worsening finances and crumbling buildings, the college has been on a remarkable journey of change and improvement.
We now have a much improved Ofsted report (2013) alongside increased success rates and enrolment figures. However, to manage on-going funding cuts and financial deficits of the last few years, the college must have a teaching contract that reflects a modern operating environment and sector norms.
The new contracts allow the college to meet the changing needs of its learners
Most importantly, the new contracts allow the college to meet the changing needs of its learners. It is disappointing that UCU has not engaged constructively in helping to shape the College so that it can be secure for the future. That said, we remain willing to work with them if they are willing to do so.
The new contract merely reflects normal practice in most other colleges and will enable learners to have teaching provision throughout the year — something employers want to see.
The extra days in college will also allow for staff development, planning and preparation to support continuous improvement in teaching and learning. We consulted staff and Unions in March; spent two days at ACAS; and have always said that we are willing to have dialogue about assurances for existing staff, but the new contract is in operation and staff are signing up to it. Thankfully, most staff have continued to work and most students are unaffected by the strike.
We hope that UCU will call off this action, so that all staff can return to college to support student success.
Mark Silverman, Lambeth College principal