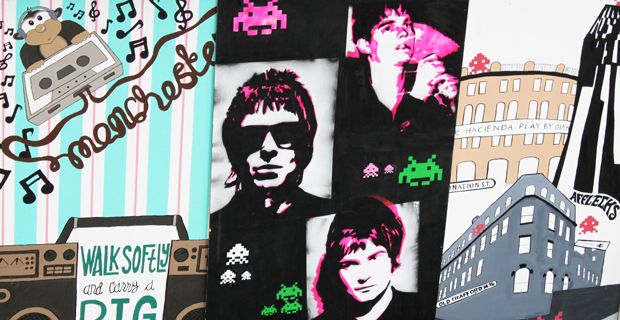 A giant mural was created by Wigan and Leigh College learners in tribute to a part of Manchester famous for its arts and music scene.
Level two art and design learners painted original designs, featuring Joy Division and Oasis frontmen Ian Curtis and Liam Gallagher as well as legendary nightclub the Hacienda, onto the 63ft-wide and 8ft-tall mural.
It was installed in Thomas Street, in the city's Northern Quarter, on a previously neglected piece of land which now features a herb garden and "bug hotels" to help preserve wildlife.
The designs were inspired by city's Northern Quarter, which is famous for its arts and music scene.
Students' Union co-ordinator Christina Donovan, said: "The mural celebrates Manchester's culture and will inject a fresh new energy to a space that can be enjoyed by residents and visitors."
The mural was commissioned by charity Northern Quarter Greening, which was set up by local residents to improve their local environment.
Cap: The mural tribute to Manchester's arts and music scene.